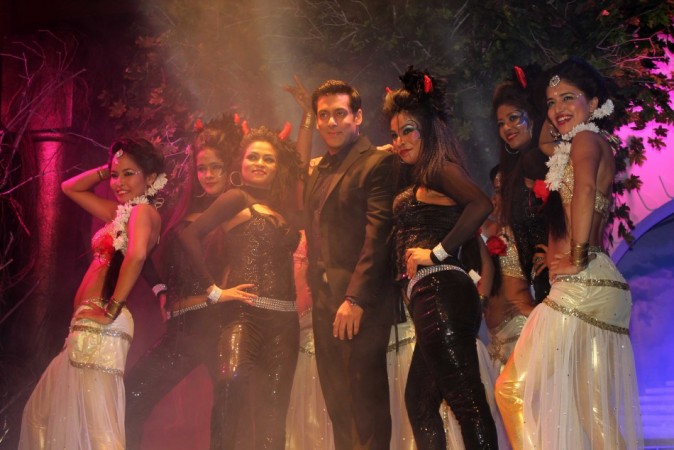 The latest episode of television show "Bigg Boss" Season 7 saw an interesting twist with the inmates being allotted an interesting task leading to several altercations.
The reality show, well known for its high-end drama, presented another eventful day when two sides of the house - Heaven and Hell, were allotted an arduous task which involved the Hell mates stealing medals from the Heaven section.
The task led to an angry outburst from contestant Shilpa Sakhlani as she lashed out at her opponents for mishandling her husband Apoorva Agnihotri. The alterations ensued between model Asif, and Hell mates Kushal Tandon and Sangram.
The episode presented an interesting and intense situation at the house as Gauhar Khan, the captain this week, was debating about the rules of the game and reprimanding the contestants for lawlessness. She played her role of a taskmaster to the hilt and invited angry reactions especialy from Kushal, Andy and Tanisha.
What was interesting was VJ Andy's attempt to procure a medal under Asif's guard. Andy, better known for his eccentric ways, was seen torturing Asif with smelly socks and undergarments in his attempt to acquire the golden medal. Kushal, Sangram and Apoorva were seen trying to distract their Heaven opponents by pouring water, shampoo and shaving gels into others.
Even as the contestants were issued warning for the misuse of the mike, a desperate and partial approach was noticed in contestant Tanisha Chatterje. She kept crying foul at the Hell mates' attempts to perform the task and at one point went on to accuse contestant Shilpa of being aggressive.
However, despite all allegations and Heaven mates giving up on one medal citing partiality, the task was accomplished by the Hell side of the house. Heaven mates were ordered to move out of the house to the pool side area of the house. They were also ordered to seek Hell mates' permission for using specific portions of their side of the house.
Another turnaround was seen when contestant Kamya Punjabi was seen bitching about close friend Pratyusha Bannerjee to Shilpa. Kamya expressed displeasure on Pratyusha's proximity with Armaan and Tanisha, who are already under the scanner for their budding romantic liaison. The show's host Salman Khan had earlier issued a warning to Tanisha and Armaan concerning their overt displays of public affection.
The high-action packed day ended on a sour note as a verbal altercation and a shoe hitting row ensued between hell inmates - Andy, Kushal and Sangram, at night.
As the reality show completes its first 30 days this season, the house has already witnessed massive turbulence in the nature of contestants and their relations with each other. So far, four members - Hazel Keech, Rahul Rawail, Anita Advani and television actress Ratan Rajput, have been evicted this week.
This week's nominated contestants are Kamya Punjabi, Armaan Kohli, VJ Andy, Shilpa Sakhlani and actress Tanisha Chatterjee.