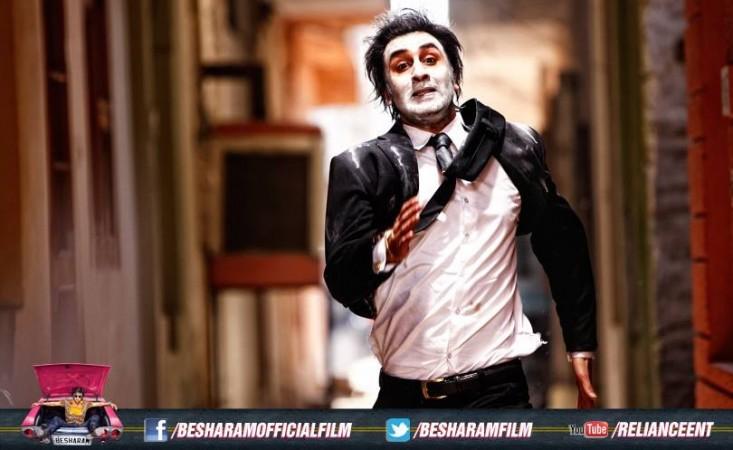 Ranbir Kapoor's action comedy film "Besharam" has finally hit the screens on 2 October with mixed reviews. The film has plenty of advantages upon its release at the box office with its opening day being a public holiday (Gandhi Jayanti), a long extended weekend, solo release and biggest number of screens.
The film is one of the much-awaited films as it is directed by Abhinav Kashayp, who shot to fame with "Dabangg" and created several records. Also, for the first time Ranbir is sharing screen space with his parents Rishi and Neetu Kapoor.
However, the advance bookings have received average response in theatres across the country. Also, it garnered mixed reviews from critics.
But it remains to be seen how the film opens at the box office on Wednesday.
Check the critics' review here:
Rohit Vats of IBNLive in his tweet review said: "Ranbir Kapoor is living up to the expectations. Absolutely free of inhibitions. The director has maintained a good pace so far. #Besharam relies on fast changing plots. The film brings up some debates that are fundamentally flawed. #Besharam needs to maintain the tempo.
"An illogical but entertaining climax comes to an end. #Besharam has a trendy credit song. #Besharam is a typical Bollywood masala film which had a good tempo and spontaneous acting. #Besharam doesn't give anything other than what was promised in the promos. It banks on stereotypical formula of Bollywood blockbusters.
"Pallavi Sharda manages to get attention due to her confident dialogue delivery.#Besharam is next in the line of Dabangg, Rowdy Rathore & SOS. #Besharam is a fun film and can suit your festive mood."
Charnamrit Sachdeva of NewsX said: "The approach of enthralling the audience via an action comedy drama has not speckled a lot today if you compare them with earlier movies. Younger brother of the director Anurag Kashyap, Director of 'Besharam', Abhinav Kashyap was hailed for his blockbuster directorial debut venture 'Dabbang' and boasts of his own art of presenting 'masala movies', which does certainly does not lack any of the important spices.
"It is just not about the chemistry between Ranbir and Pallavi which deserves applause but also the concept of Abhinav of actually uniting the whole family under the one camera and on one screen.
"The story, however, does not offer you anything that may be called 'inventive' but 'Besharam' surely deserves a watch for its drollness and characters which won't disappoint you."
Taran Adarsh of Bollywood Hungama said: "BESHARAM is Ranbir's first tryst with an out-and-out masala film. A genre that's suddenly caught the fancy of every actor in tinsel town. But, unlike most masalathons, BESHARAM is no remake of a South Indian blockbuster. This one's more like the vintage masala films that we relished in the Bachchan era. With a contemporary tadka, of course. The question is, does BESHARAM work? Unfortunately, it doesn't!
"Even the writing hits a rough patch on varied occasions. While the villain's track fits wonderfully in the scheme of things, the love story lacks the spark. Even the chemistry between Ranbir and Pallavi, so vital in a film like this, lacks fire. Again, a few moments between Ranbir and the cops [portrayed by Ranbir's real-life parents, Rishi and Neetu Kapoor] do hold attention, especially Ranbir's outburst in the finale when Jaaved attacks Neetu Kapoor, but the sequences between Rishi and Neetu are, at times, over the top. The action too offers nothing novel. Bashing up multiple people at one go, jumping on a car with splinters flying all across, Rishi getting into the GADAR mode in the climax... it seems like an assemblage of sequences to evoke reactions.
"While BESHARAM is a love story at heart, one expects the musical score to be lilting to the core. But the soundtrack disappoints as well.
"On the whole, this film proves the adage 'All that glitters is not gold' absolutely right. BESHARAM is a huge disappointment!"
Mohar Basu of Koimoi.com said: "It is a cheerfully crackling film with the thunderous touch of Abhinav Kashyap. Filmmakers need to learn that rabid formulaic ideas can be created with crisp writing too.
"Besharam is indeed a credulous attempt at invoking audiences to watch a variation of run-of-the-mill stories commercial cinema subjects us to. Ranbir Kapoor accomplishes the glossy role riddled with cliches with flamboyance. There are no outrageously significant elements that makes it a compelling watch which in the end rankles deeply! But if cinema is way of enjoying nachos and popcorn for you, Ranbir's shamelessly 'Besharam' avatar will do for you.
"Besharam has too many shortcomings and lacks the ravishing junk delight of calamitous ending that commercial flicks usually generate. However, it is only worth it for Ranbir, Rishi and Neetu Kapoor who in respective roles give us in patches an insistently enjoyable time! It is fit for an average entertainer. You can go watch this and have a judiciously fun time, but don't expect the enchanting fun of Dabangg! This doesn't even near it by an ounce."