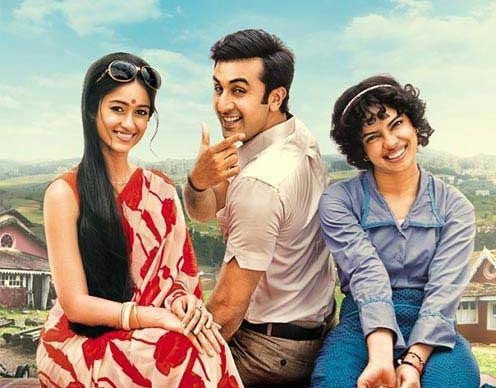 A week into its release, bollywood movie "Barfi" has already become a part of film history after being selected as India's official entry to the Oscars 2013 in the foreign film category.
The decision was taken at a Film Federation of India meeting in Hyderabad on Saturday, when officials nominated the Ranbir Kapoor starrer over 19 other Indian films to the Academy awards in February next year, Press Trust of India (PTI) said.
"Barfi! is the Indian entry to the Oscars. We selected it to represent the country out of 20 films," Supran Sen, secretary general of the Film Federation of India, told the news agency.
Released on Sept 14, the movie revolves around the lives of a hearing and speech impaired boy played by Ranbir Kapoor and an autistic girl essayed by Priyanka Chopra. Southern star Ileana D'Cruz completes the triangle. Lauded by critics and audiences worldwide, the movie showed the world that language is not a barrier when it comes to falling in love.
The Anurag Basu-directed film is the fourth UTV film to represent India for the international awards. Siddharth Roy Kapoor, the producer of "Barfi" expressed his happiness over the news.
"We are honoured that Barfi has been selected to represent India as it official entry to the Academy Awards 2013. Barfi is very close to the hearts of all of us at UTV and it is gives us great satisfaction that a film we have developed and nurtured since its inception has been met with so much love from audience and critics worldwide," said Disney UTV's managing director Siddharth Roy Kapoor .
Priyanka Chopra was equally elated about the film's nomination to the awards.
"Yay! Congratulations Team Barfi! This is such amazing news. This film was a labour of love for all of us and to see it receive such amazing success is so gratifying. This has been the toughest character of my life and to see everyone loving Jhilmil is such a dream come true. I am thrilled to be a part of such a wonderful team who made this happen," said the actress who is currently away from India.
Ranbir Kapoor, who captured the nation's heart with his endearing role as Barfi, said there is a long way to go as this is just an entry."We all are very happy.... It is a team effort but we should not be that excited as the film just got an entry from India," he told PTI.
Now running into its second week "Barfi" has already crossed a collection of more than ₹750 million and is continuing to grow strong at both the domestic and overseas box office.