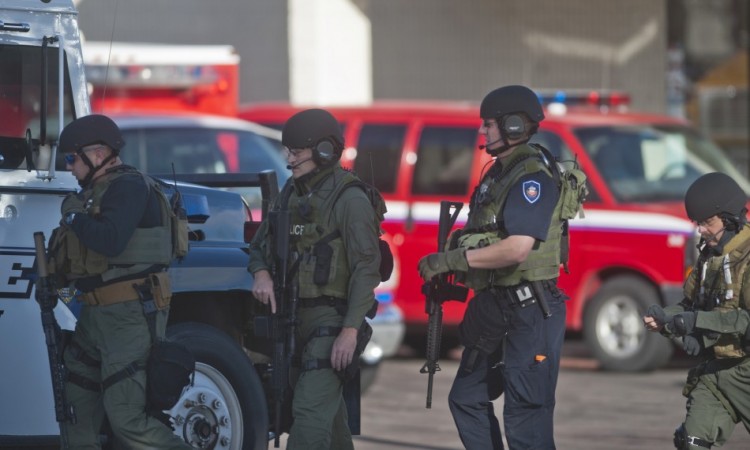 A suburban Colorado high school student armed with a shotgun, possibly aiming to vent his fury at a teacher, opened fire at the school on Friday, wounding another student, before killing himself.
The 18-year-old, who is now identified as Karl Halverson Pierson, had belonged to the school speech and debate club and also the track team, according to the school website.
Police said the incident began around 12:30 pm on Friday, after the student entered the school premises with a shotgun and began desperately looking around the halls, shouting the name of a teacher. The teacher had left the school after learning he was a target.
The Arapahoe County Sheriff Grayson Robinson told reporters that contrary to earlier reports, there was only one gunshot victim, a 15-year-old girl. The sheriff said that it was unclear whether the girl tried to confront Pierson but "there's no reason to believe she was a target".
Robinson told reporters that initially a second girl was mistakenly thought to have been shot but she had blood on her only because she came into direct contact with the injured girl while attempting to save her.
Two petrol bombs were also found inside the school, which has been now been placed on lockdown.
The attack took place just eight miles from Columbine, inflicting a chilling reminder of the April 20, 1999 shooting massacre at the Columbine High School, in which two senior students murdered 12 students, a teacher and injured 24 others, before committing suicide.
Also, Friday's attack came just a day before the first anniversary of another US primary school shooting, which left 20 children and six adults dead. Adam Lanza, a 20-year-old man had engaged in a shooting rampage at Sandy Hook Elementary School in the village of Sandy Hook in Newtown, Connecticut on 14 December, 2012.
Friends of Pierson have described him as an intelligent and likeable youth who had been an officer in the debate club and served as one of its captains, the Los Angeles Times has reported.
Pierson was reportedly kicked off the debate team and suspended from school in September for a few weeks after he had threatened the coach. He and the teacher had argued over the changes he wanted to make to the debate team.
"When he came back he was really, really angry," Redmond, one of Pierson's friends told the newspaper. "He doesn't take a no very lightly."