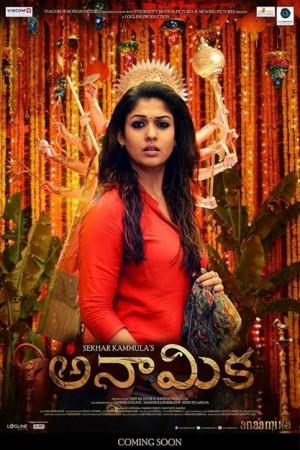 Nayanthara-Sekhar Kammula's "Anamika" ("Anaamika") has fetched decent reviews from critics.
"Anamika" adapted from the hit Hindi film "Kahaani" has Nayanthara appearing in the role of a woman from the U.S., who comes to India in search of her husband.
The film begins with a bomb blast in Hyderabad that kills the life of several innocent civilians. Anamika (Nayanthara) comes in search of her missing husband Ajay Sastri (Harshavardhan Rane), a software engineer.
Anamika files a complaint at the local police station and tries to find her husband's location. She takes help from a local policeman Sarathi (Vaibhav Reddy), who aids her in searching for her missing husband. But soon the case becomes complicated with the involvement of big forces.
What happened to Ajay Sastri? How Anamika solves the mystery surrounding his disappearance forms the crux of the story.
Besides Nayanthara and Vaibhav, there are several other actors in "Anamika" including Pasupathy (officer Khan) and Naresh (Home Minister).
Critics have appreciated Nayanthara's performance, citing that she pulled off the role convincingly. "Nayanathara is simple and effective as Anaamika. She has portrayed various emotions convincingly. She has pulled off two extremely contrasting emotions of fear and revenge quite well. Vaibhav is good as the sympathetic police inspector. Harshavardhan Rane has a brief role and he has done well," says 123telugu.
"Pasupathy and Naresh do their bit in small, but important roles. The galaxy hotel manager is funny at times."
Besides Nayanthara's performance, film's story, background scores and the second half are the major highlights, according to critics.
They have also appreciated director Sekhar Kammula for giving out an engaging thriller film. Telugu Mirchi says, "In all fairness to Kammula, he manages to dish out an entertaining and engaging thriller film without tweaking the original beyond pale."
While the first half seems to go at a leisurely pace despite giving an indication of some danger to Anamika's life, it is only in the second half that the film really becomes racy," the website stated.
On the flip side, "Anamika" has several loopholes and defies logic in some portions, says Gulte. "Nayantara tries hard to save the film and yes, she is partly successful. Pre-climax portions are good. Despite missing some logic, the film is a one-time watch. The film might connect to people who haven't watched original 'Kahaani'," according to the website.
Verdict: One Time Watch
Image credit: Facebook/Sekhar Kammula
(Ed:AJ)