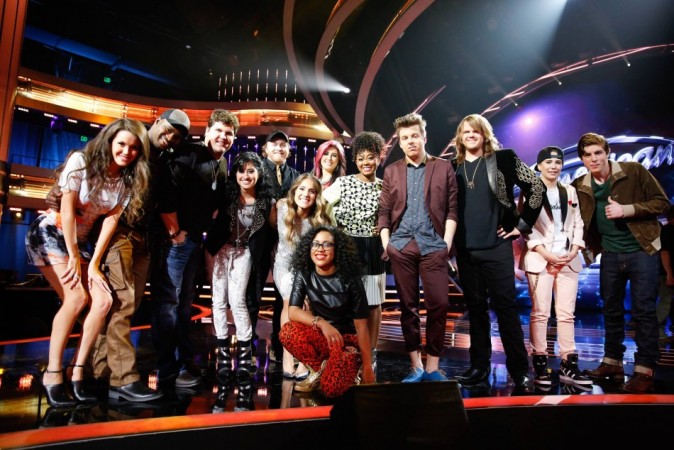 The "American Idol" 2014 elimination round is here with the top 12 contestants having performed live on Wednesday for America's vote. One of the contestants, who get least vote, will be sent home on Thursday's episode.
The elimination episode will be telecast at 8:00pm EST on Fox (6:30am IST, Friday). The judging panel - Keith Urban, Harry Connick Jr. and Jennifer Lopez - will decide who of the bottom three contestants leave the competition.
Kristen O'Connor, who was placed in bottom three along with Malaya Watson and MK Nobillette, was sent home last week.
Wednesday's live performance was relatively better than last week's with some of the contestants making a striding improvement, and America will decide who among them remain in the competition based on their rendition on Wednesday.
Jena Irene sang KT Tunstall's "Suddenly I See" on Wednesday. She put up a good show and her stage presence was commendable though Harry Connick Jr. said that she should have pumped in a little more power into the song.
Alex Preston rendered Gavin DeGraw's "I Don't Want to Be". Judges were of the opinion that his performance was good but the arrangement could have been a little better.
Jessica Meuse sang "White Flag" by Dido. It was not a disappointment with her voice going off key in parts.
Dexter Roberts performed Montgomery Gentry's "Lucky Man". It was a good performance and he received good comments from the judges.
Emily Piriz sang "Let's Get Loud" by Jennifer Lopez, who is one of the judges of the show. She owned the stage and seemed to have enjoyed the whole experience which is important.
Caleb Johnson rendered "Working Man" by Rush, and it was a good performance. It is perhaps one of the most solid performances on Wednesday's episode.
M.K. Nobilette, who was in the bottom three last week, sang "Drops of Jupiter" by Train. It wasn't a notable performance and she seemed to be not comfortable with the song.
C.J. Harris sang John Mayer's "Waiting On the World to Change" but it was not his best when it comes to vocals.
Sam Woolf rendered Blind Pilot's "Just One". He performed well last week and his rendition on Wednesday was also good.
Malaya Watson, who landed in the bottom three last week, sang Tamala Mann's "Take Me to the King" this week. Her performance was good this week, earning praises from Jennifer Lopez.
Ben Briley sang David Nail's "Turning Home" for America's vote on Wednesday. It was a solid and passionate performance.
Majesty Rose sang Coldplay's "Fix You". She has good stage presence and looked poised as if she owned the place. Overall, it was a good performance.