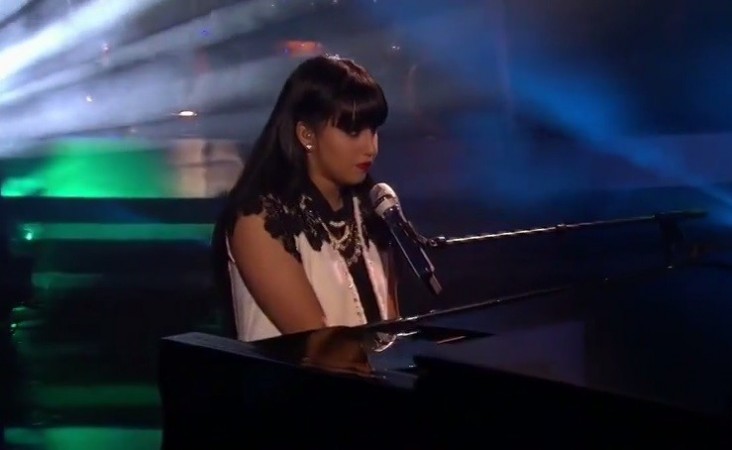 The top six finalists of "American Idol" 2014 will be known after Thursday's elimination round, with one of the seven contestants set to be sent home, based on America's votes, following their live performance on Wednesday.
The elimination round will be telecast at 9:00pm EST Thursday on Fox (7:30am IST, Friday).
Wednesday's episode saw the seven remaining contestants performing songs, picked by their fellow contestants, based on the week's theme "Competitor's Pick".
Caleb Johnson sang Kings of Leon's "Family Tree", picked by Alex Preston. It was a great song choice and his performance was good, though his last week's performance seemed a little better.
Jessica Meuse rendered Miranda Lambert's "Gunpowder and Lead", picked by Sam Woolf. She seems to be not comfortable with the song and was off vocally most of the time.
Woolf and Preston took on the song "Let Her Go" by Passenger. It was done sweetly but had nothing special about it.
CJ Harris sang John Mayer's "Gravity", picked by Johnson. It was perhaps his best performance so far in the competition but he still had room for improvement. The high note at the end of the song was good.
Dexter Roberts sang Luke Bryan's "Muckalee Creek Water", picked by Harris. He did a reasonably good job but it was not a performance that stood out.
Jena Irene and Johnson took on "Gimme Shelter" by The Rolling Stones. Their performance was good and the great chemistry between them during the rendition was visible.
Preston sang Ed Sheeran's "The A Team" picked by Roberts. His arrangement of the song was good. In fact, the song suited him very well and he nailed it with a big note as if to send a message that he is here to stay.
Woolf sang David Gray's "Sail Away" picked by Meuse. It was a good performance but not one that stood out. Judges described him as "progressive".
Meuse, Roberts, and Harris sang "Compass" by Lady Antebellum. It was a forgettable performance with the voice going flat. They were much better as individual singers.
Irene sang Radiohead's "Creep", picked by Johnson. It was a good song choice that suited her voice and she nailed it with a great performance that people may remember for a while. It was no doubt the best performance of the night and made the judges groove to her tune.
(Photo credit: Screenshot from American Idol 2014 YouTube Video] (Ed: VP)