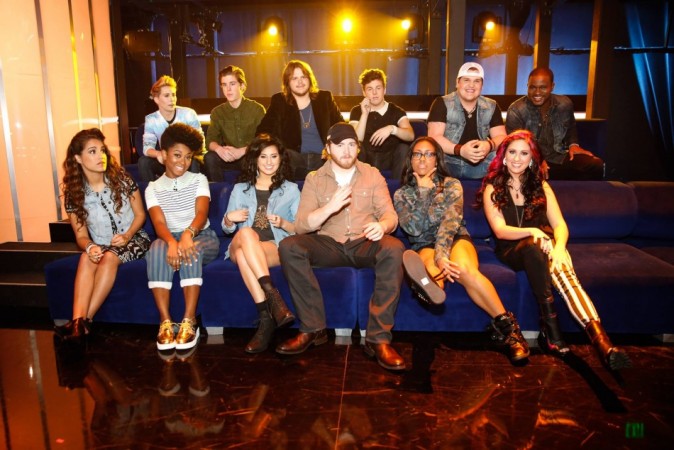 The "American Idol" 2014 has entered the most exciting stage of the show with competition getting tougher each passing week. The remaining top 11 contestants will take the stage on Wednesday to impress the judges and the American public.
Wednesday's episode, showcasing top 11 contestants, will be telecast at 8:00pm - 10 pm EST on Fox (6:30am - 8:30 am IST, Thursday).
Themed "Songs From the Cinema", this week may see the contestants belting out some of the most powerful ballads for America's vote, as their fate in the competition entirely depends on the public. One contestant, who gets least vote, will be sent home on Thursday's episode.
Kristen O'Connor and Emily Piriz had been eliminated from the show since public voting started two weeks ago.
Last week, themed "Home", saw Jena Irene performing "Suddenly I See" by KT Tunstall, Alex Preston - "I Don't Want to Be" by - Gavin DeGraw, Jessica Meuse - "White Flag" by Dido, Dexter Roberts - "Lucky Man" by Montgomery Gentry, Emily Piriz - "Let's Get Loud" by Jennifer Lopez, Caleb Johnson - "Working Man" by Rush, M.K. Nobilette - "Drops of Jupiter" by Train, C.J. Harris - "Waiting On the World to Change" by John Mayer, Sam Woolf - "Just One" by Blind Pilot, Malaya Watson - "Take Me to the King" by Tamala Mann, Ben Briley - "Turning Home" by David Nail, and Majesty Rose - "Fix You" by Coldplay.
The top 11 contestants will sing again before the judges - Keith Urban, Jennifer Lopez, Harry Connick Jr. - on Wednesday, based on which Americans will decide who stays in the competition and who goes home. The results of the live performance will be announced at the elimination episode on Thursday.