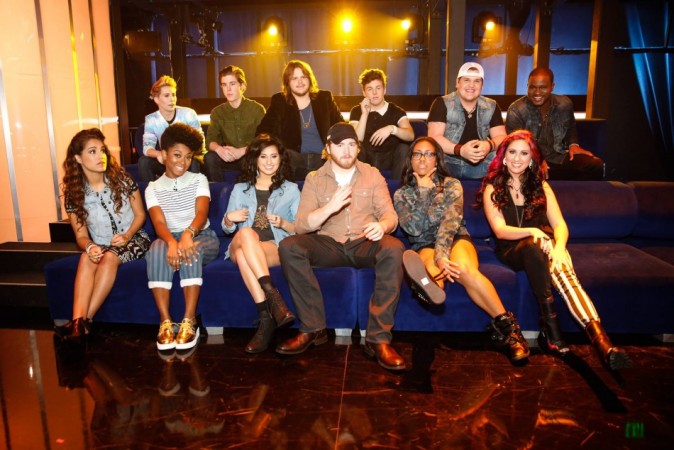 The top 11 contestants of "American Idol" 2014 will perform for public votes on Wednesday, based on which one will be sent home in the next episode, and it has been revealed that the theme for the finals week 3 is "Songs From the Cinema".
The earlier weeks were themed "This Is Me" and "Home". Kristen O'Connor was the first contestant to leave the competition from the top 13, followed by Emily Piriz.
The songs to be performed by the remaining 11 contestants have not been revealed yet but they are expected to render some of the most powerful ballads. However, it won't be easy to choose songs that suit them and their taste.
Here is the list of songs performed by contestants last week:
Jena Irene - "Suddenly I See" by KT Tunstall
Alex Preston - "I Don't Want to Be" by - Gavin DeGraw
Jessica Meuse - "White Flag" by Dido
Dexter Roberts - "Lucky Man" by Montgomery Gentry
Emily Piriz - "Let's Get Loud" by Jennifer Lopez
Caleb Johnson - "Working Man" by Rush
M.K. Nobilette - "Drops of Jupiter" by Train
C.J. Harris - "Waiting On the World to Change" by John Mayer
Sam Woolf - "Just One" by Blind Pilot
Malaya Watson - "Take Me to the King" by Tamala Mann
Ben Briley - "Turning Home" by David Nail
Majesty Rose - "Fix You" by Coldplay
The song choice for Wednesday's episode will be narrower, compared to the previous weeks, and so it will be hard for some contestants to find songs that suit them. However, their performance will determine who moves on to the next round, as it will be the public and not the judges - Keith Urban, Jennifer Lopez, Harry Connick Jr. - who will vote their favorite contestants to the top 10 list.