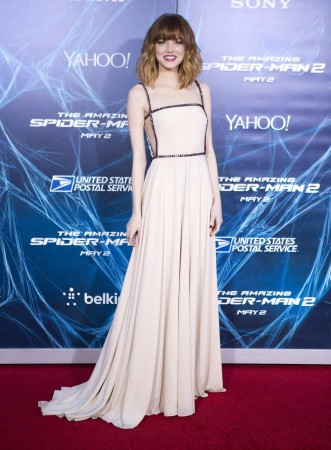 "Amazing Spider-Man 2" is predicted to be one of the biggest blockbusters of this year. The film made it New York premiere yesterday, April 24, and it was indeed a star-studded event with the film's lead actors, Emma Stone, Andrew Garfield, Jamie Foxx and Dane DeHaan in attendance.
Stone looked absolutely gorgeous in a cream colored gown with purple jeweling weaved around her waist. She kept her hair open and coupled her look with nude make-up and popping pink lipstick. Stone has been rocking some seriously amazing looks this season.
During the London premiere of the film she was seen in a bright yellow Versace gown, which gathered at the waist and gave a brief peek of her back. Similarly during the Berlin premiere she was seen in two stunning dresses. She wore a colorful chiffon dress for the first occasion and later changed in to a pale blue caped frock.
During the New York premiere Stone was accompanied by her co-star and boyfriend Garfield, who plays Spidey. He was dressed in a blue suit and rocked short hair.
Other stars who attended the event include Pharrell, Alicia Keys, Felicity Jones and Kendrick Lamar, reported Hollywoodlife.
"Amazing Spider-Man 2" will have the web-slinging hero fight three villains. Garfield's character will try to balance his personal life while fighting for humanity.
From the trailers, it seems a lot of thrill is on the way for Spiderman fans. Speculations are rife regarding Stone's character, Gwen Stacy, who appears to be in some kind of trouble and Spiderman goes out of his way to save her.
"The Amazing Spider-Man 2" hits screens on May 2, in USA.
[ED:VS]