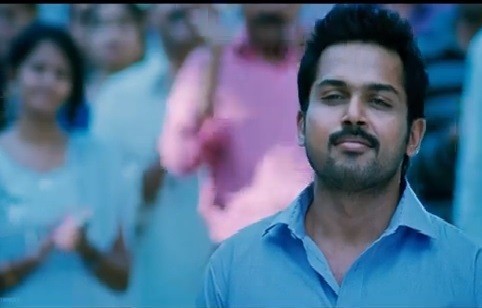 Karthi's "All in All Azhaguraja" (AAA) has received negative reviews from critics, who have termed it as a film that lacks a simple storyline.
After three consecutive hits, director Rajesh is back with "AAA" which has Karthi and Santhanam teaming up once again to entertain the audience. However, the film has failed to provide maximum laughs to the viewers.
"AAA" revolves around Azhaguraja (Karthi), who runs a TV channel. He falls in love with Devi Priya (Kajal Aggarwal), who dreams of becoming a big artist. How Azhaguraja wins over Devi Priya forms the crux of the story.
The film has a big supporting cast that includes Prabhu, Saranya Ponvannan, Sri Ranjini, MS Bhaskar among others.
Here is the review roundup of "AAA"
According to Behindwoods Review Board, "The length of the movie works against it and with the absence of scenes which will make you roll over in boisterous laughter, the movie could have used some trimming. Though the laughs are spread across a few moments, when 'AAA' is pitted against Rajesh's other wholesome 'laughathons' such as OKOK and Boss, it falls way short."
According to Sify, "The trouble with 'AAA' is that it lacks basic storyline and took the audiences for granted. The film has no real script to speak of, at best a skeletal plot. To criticise the film's script is to assume that there was one to begin with. Rajesh probably scribbled it on a toilet paper after getting Karthi's dates and decided to make a fun movie to release on a Diwali weekend."
Indiaglitz says, "Kollywood sees Rajesh as Mr. Dependable and as a director who could do no wrong whatsoever, but sadly this is not the case in AAA. He is best known to milk humor out of a thin storyline without much trouble, but in AAA he tries to bring out various subplots with humor not flowing along but injected intentionally. Though Karthi and Santhanam try their best, and that is solely the dependable mantra."
Verdict: Fails to work, the joke is on the audiences