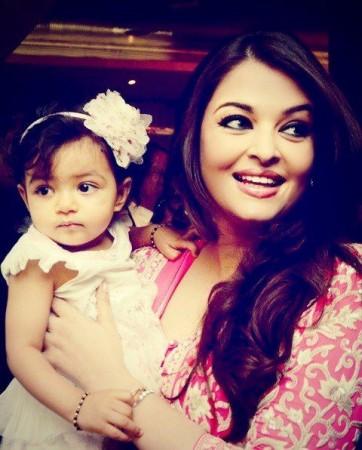 Actor Abhishek Bachchan and Aishwarya Rai's one-year-old daughter has been grabbing headlines ever since her arrival into the world over a year ago. After being in the news for her looks, now the talks have steered towards her career.
Like parents Amitabh and Jaya Bachchan, Abhishek also chose to work in the film industry. And now there are questions regarding Aaradhya's career path.
Abhishek doesn't want to put any pressure on his one-year-old daughter. The actor, who was in Delhi recently, said Aaradhya will have the liberty to choose a career for herself and a parent's job is just to give "love, care and good education" to the child, reported IANS.
The actor was recently in Delhi attending a charity called 'The Baby Beri Show' for The Blessed Hearts Foundation organised by fashion designer Ritu Beri. The event was organised with an aim to create awareness for a very sensitive issue - autism.
When asked why Aaradhya was missing from the event, Abhishek said, "I had lot of fun coming here. I am a film actor and these children (who walked the ramp) are much better than me. Talking about my daughter, I think it is completely her (Aaradhya) choice, let her decide her career as and when she wants too."
"Currently she is in Mumabi and very small, but I am sure she will be happy to lend her support to such causes when she grows up," he added.
The actor also said that a parent's duty is to give their child a healthy upbringing.
"As a parent it is not about material goods. The gifts a parent can give the children are love, care, education and understanding. These are the most important gifts any parent can give. As far as I am concerned, taking care of the child is never just a mother's role. It's all about sharing responsibilities," Abhishek told IANS.