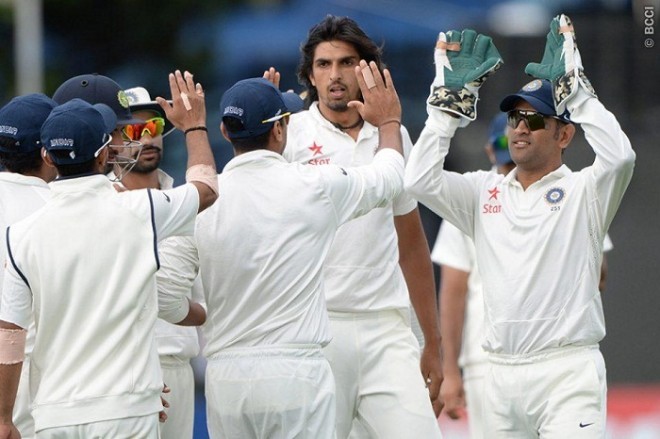 Ishant Sharma should spearhead India's pace bowling unit in England, veteran left-arm pacer Zaheer Khan reckons.
Ishant who has played 55 tests for India has enough experience to draw from, to be able to head the bowling attack and guide his fellow fast bowlers during the eagerly awaited showdown between the two teams, felt Zaheer. Of the six frontline pacers in the squad, Ishant is the only one who has toured England before.
"It is Ishant who has played the most number of matches and he has been around for a while. It is time he steps into that role," Khan told website EspnCricinfo. Zaheer, India's premier pacer and veteran of three English tours, has been kept out of the tour by a side-strain.
"For Bhuvi (Bhuvneshwar Kumar) and (Mohammed) Shami, it is their first (England) tour so they will look to Ishant and (bowling coach) Joe Dawes for inputs to perform in those conditions," Zaheer added.
Ishant was a part of the squad that suffered a forgettable 4-0 drubbing at the hands of the English in the last series in England. On that tour, the tall and lanky pacer took just 11 wickets at an average of nearly 60.
In the last tour game against Leicestershire, Ishant bagged three wickets. However he was on the expensive side, conceding 64 runs in his nine overs.
Zaheer's opinion that Ishant should bear more responsibility is probably drawn from the tall and lanky pacer's showings in South Africa and New Zealand. Sharma in the two-test series in New Zealand was India's best bowler as he scalped 15 wickets at an average of 25.13 and bowled with zest during the South African tour. Sharma can take heart from the fact that English conditions will be similar to those in New Zealand. In both these tours, Zaheer Khan's presence and experience helped Sharma.
Zaheer had praise for Mohammad Shami too. He complemented the pace attack well in the 92-test veteran's opinion.
"I was also impressed by someone like Mohammed Shami, who was able to perform the pace bowler's role very nicely. For a successful bowling unit, you require a good fast bowler with very good pace and Shami has that. And that helped me cope with my workload. You do need a balanced bowling attack. You can't have bowlers with similar styles. It was a perfect combination we had, I felt," said Zaheer to EspnCricinfo .
A long five-test series such as the upcoming one can help a bowler find his rhythm thought the 92-test veteran. A series is the best thing that can happen to a bowler if the bowler hits a good rhythm and he should play as much as possible to gain confidence to bowl in English conditions, according to Zaheer.
Zaheer, who did well in England in the 2007 tour bagging 18 wickets in three tests, will not be able to bowl for four more weeks after picking up a side-strain in the Indian Premier League.