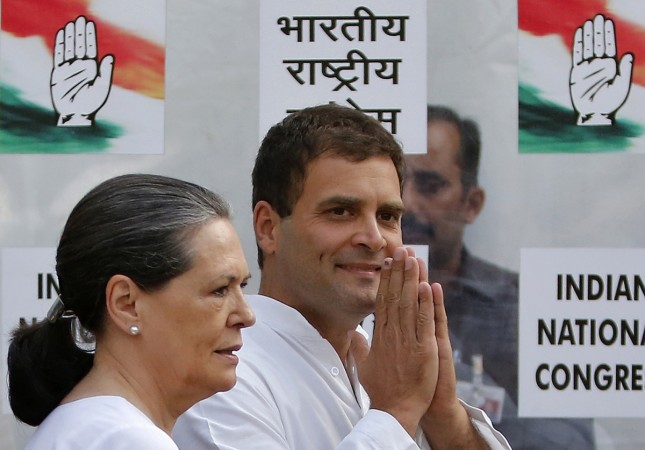 The Bharatiya Janata Party's (BJP) thumping win in the 16th Lok Sabha elections under the leadership of Narendra Modi has not only rattled the Indian National Congress, but also seems to have shaken the Gandhi-dynasty with reports doing the rounds that party president Sonia and vice president Rahul would resign at the Congress Working Committee (CWC) meeting on Monday.
The report came just a day after the Congress party met with a humiliating defeat, winning only 44 seats out of 543, which was its worst-ever performance.
Several reports have suggested that both Sonia and her son Rahul, who had earlier claimed responsibility for the debacle by saying that the mandate was clearly against the Congress party, might resign during the CWC meet, but sources have rubbished the rumours.
"It is all rubbish. This is not the way to go forward. That is not the solution," sources close to the Congress told Press Trust of India.
Even though they took the responsibility for the debacle in the general elections, they didn't mention about stepping down.
The CWC is convening a meeting on Monday to take stock of the present political circumstances after the defeat. The leaders of the party are expected to discuss on the factors that might have worked against them and plan for the future.
Inflation, corruption and anti-incumbency sentiment might be some of the reasons for the humiliating defeat, but questions also have been raised on Rahul's leadership with some party workers demanding his sister Priyanka to rescue the party.
However, Union minister Jairam Ramesh said that the poor show of the party was not individual but collective responsibility.
"The scale of our defeat has been staggering. Most unexpected. We really have to understand why this happened-- to what extend is this Modi wave--to what extent is this anti-incumbency wave. These are all factors that we will have to understand," PTI quoted Ramesh as saying.
Manmohan Singh had earlier resigned as the Prime Minister of the country after the BJP swept the Lok Sabha elections with 282 seats, surpassing the 272-seat mark needed to form the next government.
In his last address to the nation as the Prime Minister, Singh said he tried his best in serving the nation and that India is a stronger country than it was a decade ago. He also said that "there is still vast latent development potential in our country and we must collectively work hard to realize it."