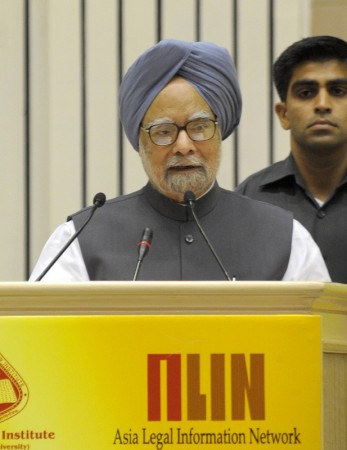 Many may be wondering what made the Congress-led United Progressive Alliance (UPA) government say so confidently that it would last its full term despite the fact that it would fall short of the required numbers to run the government if Samajwadi Party (SP) withdraws its outside support.
The answer seems to be - Janata Dal (United).
SP chief Mulayam Singh Yadav recently hinted possibilities of withdrawing outside support to UPA government, which could mean early polls. He reportedly told his party men to be prepared for the polls which he said could happen as early as in November, and even went to the extent of describing the Congress as "cheats" and calling it "clever".
However, SP's threat failed to move the UPA even a bit with Prime Minister Manmohan Singh saying that his government would complete its full term.
"Obviously coalitions face issues. Sometimes, they give the impression that these arrangements are not very stable and I cannot deny that those possibilities exist. But I am confident our government will complete five years and that the next Lok Sabha elections will take place on schedule," Manmohan Singh told reporters while returning from the BRICS summit in Durban.
The PM made the statement despite knowing the fact that UPA would not have the required numbers if SP decides not to give outside support.
The UPA current has 232 seats - Congress 202, NCP nine, RLD five and others 16 - and the current strength of the coalition is 253, including outside support from several parties like SP (22), BSP (21), RJD (3), and JDS (3). It will be reduced to to just to 231 seats if SP, which has 22 MPs, withdraws support.
The coalition was reduced to a minority last week after the Dravida Munnetra Kazhagam (DMK), which has 18 MPs, withdrew support to the government over Sri Lankan Tamils issue.
At present, the Lok Sabha has 539 MPs (four vacant seats) and the halfway mark is 270.
The Trinamool Congress (TMC) has demanded the UPA government to step down alleging that it has been reduced to a minority after the DMK withdrew support but the Congress and its allies are unperturbed.
SP chief Mulayam Singh Yadav has now made it clear that his party will continue to support the Congress-led government, but the UPA seems to be confident of completing the term even without its support.
It was speculated that the UPA would rope in BJP-led NDA ally JD(U), which has 20 MPs, if SP withdraws outside support.
Bihar Chief Minister and JD(U) leader Nitish Kumar's new fondness for the UPA is well known after Finance Minister P. Chidambaram announced special funds to his state. He even met the Finance Minister and Planning Commission Deputy Chairman Montek Singh Ahluwalia recently amid speculation that he would support the Congress-led United Progressive Alliance (UPA).
The CM had earlier said that his party would go to any extent, including a switch in alliance, if Bihar is given "special status".
JD(U) could be UPA's source of confidence.