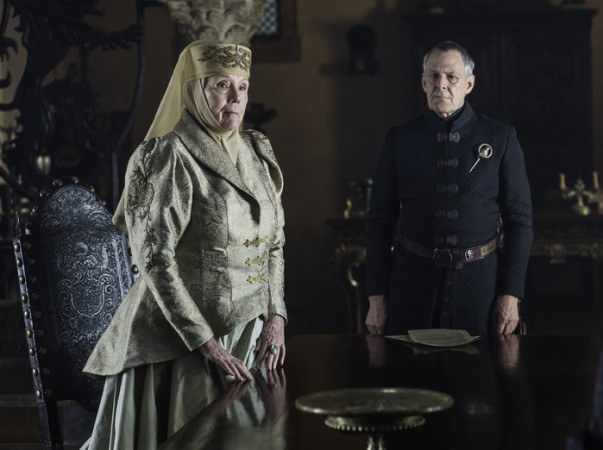 Five seasons ago, being a Lannister meant something and the phrase "A Lannister always pays his debt" held value, but as of "Game of Thrones" Season 6, the High Sparrow (Jonathan Pryce) has managed to make this powerful family look like a bunch of wildlings with no land or money of their own. If Jaime and Cersei play their cards right, however, the upcoming Season 6 episode 4, has the potential to improve their situation vastly.
In the previously aired "Oathbreaker" we saw Tommen (Dean-Charles Chapman) trying to stand up to the religious leader. However, it is evident that Tommen lacks the evil streak that exists in both his parents, and the High Sparrow used his naivety and niceness to subdue the young King.
Meanwhile, Cersei (Lena Heady) and Jaime (Nikolaj Coster-Waldau) realise that they have no hold in the small council meeting, when Lord Kevan (Ian Gelder) and the Tyrells shun them. Olenna (Diana Rigg) even put Cersei in her place by saying she is no longer the queen, because the actual queen, Margaery (Natalie Dormer) is imprisoned by Sparrows.
Also Read: 'The Real O'Neals' star Matt Shively talks Season 2, co-star chemistry
In the upcoming episode titled "Book of the Stranger," Margaery might be forced to do the naked walk of shame that Cersei was forced to do in Season 5. The desperation to save Margaery from such a fate might even unite the Tyrells and the Lannisters. The synopsis for the upcoming episode states that Jaime and Cersei will try to improve their situation, which reinstates this theory.
The episode will also see Jorah (Iain Glen) and Daario (Michiel Huisman) trying to save Daenerys (Emilia Clarke) from the Dothraki village of Vaes Dothrak. However, for the Khaleesi to prove her worth, she will have to earn their trust on her own. This might involve bringing Drogon back to the picture.
Here is the official synopsis for "Game of Thrones" Season 6 episode 4 "Book of the Stranger:"
"Tyrion (Peter Dinklage) strikes a deal. Jorah (Iain Glen) and Daario (Michiel Huisman) undertake a difficult task. Jaime (Nikolaj Coster-Waldau) and Cersei (Lena Headey) try to improve their situation."
Don't forget to watch "Book of the Stranger" at 9 p.m. (EST) on Sunday, May 15, on HBO. You can live-stream it online via HBO Go or HBO Now. In India, the episode will air a few minutes after it starts in the U.S. and you can watch it on Hotstar at 7.30 a.m. on Monday. It will also air on Star World Premiere at 10 p.m. on Tuesday, May 9.