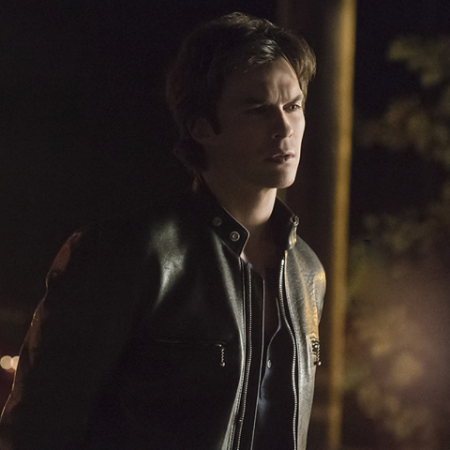 Fans of CW's vampire drama "The Vampire Diaries" will have to wait for two more weeks to find out what Damon (Ian Somerhalder) will do with the cure for vampirism that Bonnie (Kat Graham) gifted him.
Episode 18 of the season titled "I Could Never Love Like That" will air only on 16 April, and it will finally see Stefan coming face-to-face with his mother, Lily Salvatore, who was brought back from the prison world to influence Stefan to flip his humanity switch.
Based on the synopsis of the episode, Elena (Nina Dobrev) will re-evaluate her life as a vampire when she realises Jo is pregnant. Speculation is also rife that Elena and Damon might break up in the episode after Elena realises she wants more from life.
"With their humanity turned off, Stefan and Caroline begin wreaking havoc at Whitmore, leaving Damon to come up with a risky plan involving Lily. Meanwhile, when Sarah boldly turns the tables on an unsuspecting Enzo, he is forced to open up about his tragic past. Lastly, at Scull Bar, a twisted round of karaoke leaves Tyler and Matt in a dangerous situation," the synopsis reads.
Meanwhile, actress Annie Wersching, who plays Mama Salvatore in the series, recently revealed the title of the finale episode, and hinted that the episode will be high on drama.
The Season 6 finale will be called "I'm Thinking Of You All The While," and Wersching posted a photo of the script on Instagram, along with the caption: "Y'all are going to absolutely lose your minds when you see this episode! #TVD #JuliePlecAintMessinAround#SoGood."
Executive producer Julie Plec too hinted at a dramatic finale tweeting: "This weekend @carolinedries and I wrote the final scenes of #tvd season 6. I can guarantee you have no idea what's coming."
In a follow up tweet she noted: "P.S. I have also been intermittently weeping all weekend. Perhaps unrelated, perhaps not.... #TVD."
"The Vampire Diaries" airs Thursdays on CW.