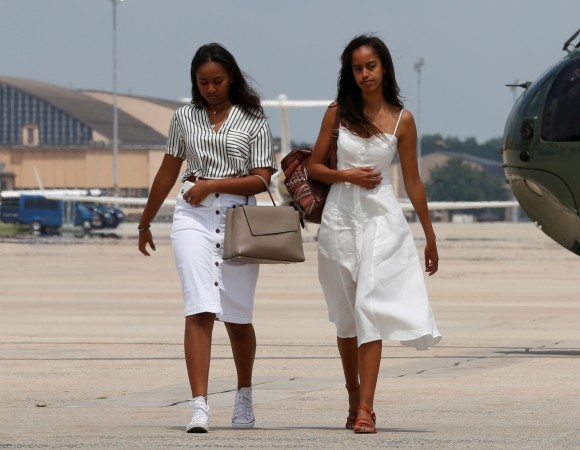 United States President Barack Obama's younger daughter Sasha Obama has recently gained employment at a seafood restaurant in Massachusetts, and Twitter seems greatly divided over it. While some are commending the 15-year-old for going to the school of hard knocks for some life lessons, detractors of the Obamas were out in full regalia on the micro-blogging site.
The teen, who has for the past eight years been living the good life as her father is the President of the U.S., is currently waiting tables and manning the cash register at the eatery, while reportedly being guarded by six secret service agents. And somehow even this "normal" behaviour is attracting some ire!
However, by last count, those supporting Sasha's decision to get a summer job at Nancy's in Martha's Vineyard were clearly winning, while those who tried to troll the U.S. First Family were themselves being trolled.
Some were clearly confused by the flak she was receiving:
Malia Obama enjoying her youth and Sasha Obama learning how to be self sufficient and independent has everyone shook. Panicking.

— glendon (@glenpalmtree) August 5, 2016
Others managed to see the levity of the situation.
'If Sasha Obama has a summer job busing tables, you can get outta bed before noon and unload the dishwasher.' - moms across the USA.

— Aisha Sultan (@AishaS) August 4, 2016
Sasha Obama is the presidents daughter and had to get a summer job. That just lets you know how black parents get down lol

— ✈ Mel Vega ♚ (@Gmel_Genuine) August 4, 2016
Many were clearly appreciative of her efforts:
Others got political.
I cant believe people really mad sasha obama got a job like come on now at least she working instead of getting a small loan of 1mil ???

— Matthew X. Flewellen (@__Flew) August 4, 2016
When Trump's kids trophy hunt elephants & leopards, Sasha Obama works washing dishes & cleaning tables. Who's more in touch with Americans?

— PoliticalGroove (@PoliticalGroove) August 4, 2016