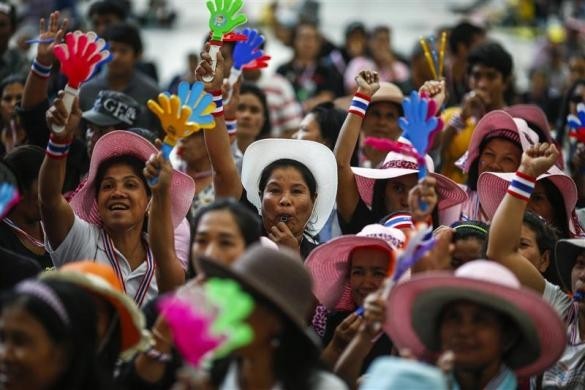 After Bangkok was gripped in violent anti-government protests for weeks, PM Yingluck Shiniwatra said on Monday that she will dissolve the parliament and call for a fresh election.
Yingluck, who last won elections in 2011, has been facing criticism about her connection to the former PM Thaksin Shinawatra. Protesters have mainly alleged that Yingluck government is controlled by Takshin, Yingluck's brother who is presently in a self-imposed exile after he was ousted for political notoriety and corruption in 2006.
In a televised address to the nation, Yingluck said she did not want any loss of life.
"At this stage, when there are many people opposed to the government from many groups, the best way is to give back the power to the Thai people and hold an election," she said. "So the Thai people will decide."
Although there is no word on when the fresh election is going to take place, Yingluck said that it would happen "as soon as possible". The dissolution of the parliament is now awaiting royal consent.
The announcement comes just a day after all the 153 members of the main opposition party resigned en masse ahead of a planned march on Government House on Monday for a final motion to overthrow what the protestors have called the "Thaksin Regime".
Even as the announcement was made, different political forces were still battling in the street, each one having an ideology and a large number of supporters. Yingluck said the country has seen too much of pain. But her entreaties for all parties to attend the coming election and that the country must have a new parliament seems to have fallen on deaf ears with protesters saying that only dissolution is not enough.
The Despised Thaksin Regime
The protest leaders have staunchly rejected any talks and said the government should resign after the dissolution.
Political analysts have pointed that a fresh election would not necessarily result in the exit of Yingluck because she still has a large number of supporters in rural parts of Thailand.
More importantly, the aim of the weeks-long protests is to get rid of the Thaksin regime.
"The movement will keep on fighting. Our goal is to uproot the Thaksin regime," BBC quoted Protester leader Suthep Thaugsuban as saying. "Although the House is dissolved and there will be new elections, the Thaksin regime is still in place".
Many anti-government protesters have been seen gathering at different sites for their march to the Government house in a final attempt to topple the ruler.
More than 60 schools in Bangkok have been closed, AP news agency has reported. Five people were killed in violent clashes during last week's protests.
In 2010 more than 90 people died during political clashes when thousands of supporters of ousted leader Thaksin seized part of Bangkok.