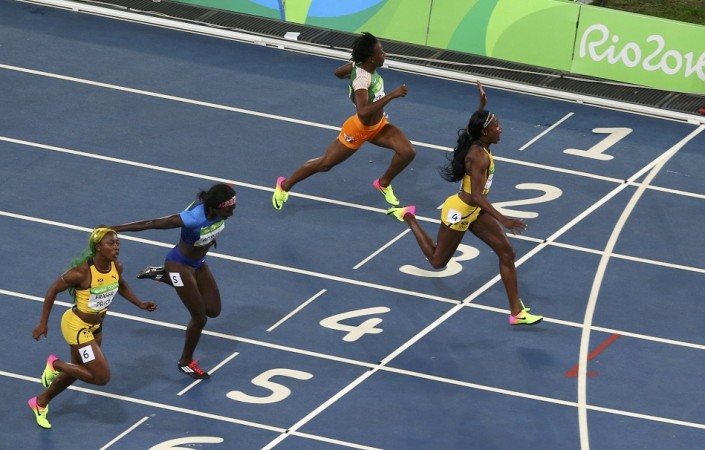 Jamaica won the women's 100m gold, but it was not the "Pocket Rocket" who crossed the line first, as Elaine Thompson ran the race of her life to take the most coveted sprint title in women's sport. Shelly-Ann Fraser-Pryce, aiming for her third gold medal in this event, had to settle for bronze.
However, there was no ill-feeling, no sulking of the face, once Thompson powered through from the 50m, to touch the line in 10.71 seconds, ahead of USA's Tori Bowie (10.83s) and Fraser-Pryce (10.86), as the latter went to her compatriot to be the first to congratulate Thompson on the achievement.
"What I'm most happy about is that the 100m title is staying in Jamaica," the 29-year-old, who had dyed her hair in Jamaican colours, said. "I'm on the podium with my training partner. I'm proud of Jamaica, just look at my hair."
Jamaica will certainly be proud of Fraser-Pryce and, particularly, Thompson, who was outstanding in her 100m run, with the 24-year-old admitting she wasn't sure how she was supposed to celebrate, even if she realises there will be a party or ten going on back in Kingston after the Olympic gold-winning performance.
"When I crossed the line and glanced across to see I was clear, I didn't quite know how to celebrate," Thompson said. "There is a big screen back home in my community in Jamaica. I can't imagine what is happening there right now."
It was not just Thompson's night to savour, though. Mo Farah added another chapter to his legendary career by retaining his 10,000m title, and that is despite taking a fall early on in the race. After recovering from the early hiccup, Farah stayed within touching distance of his main rivals and when that time to kick came, in the final lap, he showed that ridiculous power he has right at the end of a race, yet again, leaving Paul Kipngetich Tanui and Tamirat Tola, who had to settle for silver and bronze respectively, behind to finish in a time of 27:05.17.
The great man will now aim for a double, much like he did in London 2012, when the 5000m comes rolling along next week.
There were three other medals handed out on Saturday, with Christoph Harting of Germany making a wonderful final throw in the discus to take gold from Piotr Malachowski, while USA's Jeff Henderson won the men's long jump, ahead of Luvo Manyonga of South Africa and GB's London Olympic champion Greg Rutherford.
Nafissatou Thiam of Belgium beat out Britain's darling Jessica Ennis to gold, with the latter having to settle for silver, despite a valiant effort in the final event – the 800m. Canada's Briane Theissen Eaton took bronze.