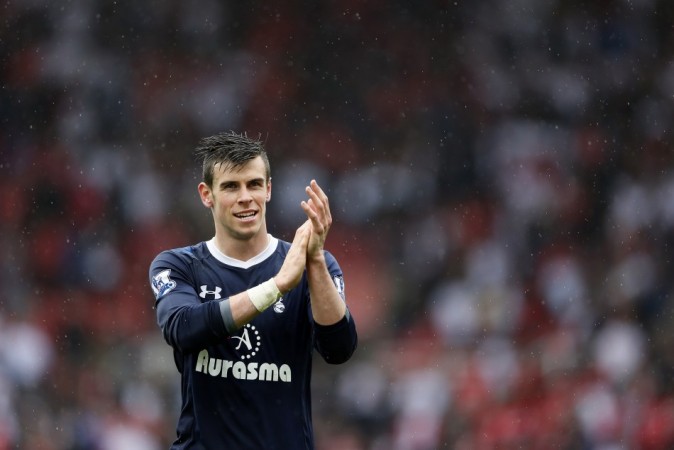 Real Madrid have reportedly given up hope of signing Tottenham's Gareth Bale this season as the Spurs are not willing to let go of their most prized asset. However, they are confident of bringing him to Bernabeu when he is ready to move to a bigger club.
Gareth Bale, 23, has being linked to Real Madrid, with several media houses reporting that the Spanish giant is willing to offer him £85 million. He has also been linked to Barcelona, Manchester United and Manchester City.
It now appears that Bale will stay at Spurs atleast for this season but Real Madrid are keeping an eye on him.
"Real Madrid have decided to put the Gareth Bale signing on hold. After receiving yet another 'no' from Tottenham, Florentino Perez and his team have decided to call it a day and now see the signing of Bale this summer as impossible. Daniel Levy, the English club's president, is not open to negotiation, and faced with such inflexibility, reaching any sort of agreement is not viable," reported Spanish newspaper Marca, the mouthpiece of Real Madrid.
The report by Marca claimed that Bale wants to join Real Madrid after his contract with Tottenham is over.
"Bale is content to stay for another year in England, despite the fact that his club will not be taking part in the Champions League. He says that he's very thankful to Tottenham and that he's happy where he is. He has no release clause, will not be making a transfer request and considers that, being only 23, he has time enough to make the jump into the big time. And when that happens, he wants it to be with Los Blancos," reported Marca.
The Wales star, who moved from Southampton to Tottenham in 2007, still has three more years left with the Spurs under the current deal. He has been offered a bigger deal worth £130,000 a week by the Spurs.