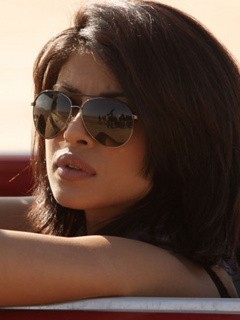 Bollywood diva Priyanka Chopra has revealed that she looks up to international Grammy award winner Beyonce as her idol.
For the multi-talented former Miss World, Priyanka has been busy with her international music career and a hectic Bollywood career moving together swiftly.
The actress, who was recently seen promoting her Hollywood animation flick "Planes" said that she is an awe of Beyonce for her ability to balance out both her professional and personal life with ease.
Praising the "Crazy in Love" singer, Priyanka was told IANS, "I admire Beyonce a lot because she is an amazing performer and more than anything, she balances her personal and professional life very well."
"She has a child, and at the same time, her professional life also, which is amazing! That's the kind of a person I would like to be - who can balance both personal and professional life together," she added.
Beyonce, who is known for her indelible mark as an artist and performer, is married to music moghul and rapper Jay Z and has a daughter Blue Ivy Carter.
Priyanka's inspiration comes from the fact that she is as much of a family girl as well an actress. She recently lost her father Dr Ashok Chopra but being a professional, she resumed her shooting within just three days. On her recent trip to the US for the promotion of her single "Exotic", the 31-year-old reportedly took her mother along.
The actress also acted in defense of her cousins in the industry as she doesn't want them to feel the pressure of being an outsider in the industry, a situation which she had undergone at a point in her life.
"It has been a great journey till now. When I came here into the film business there was no one to support or back me or help me. I was not from film industry, I was alone. Now that I am here I will protect them (other Chopra sisters). I will make sure I am there for them. It warms my heart to see my cousins coming here," said Priyanka as reported by Press Trust of India (PTI).
The actress' sister Parineeti Chopra has already made her mark, while Meera Chopra and Barbi Handa are all set to make their debut soon.