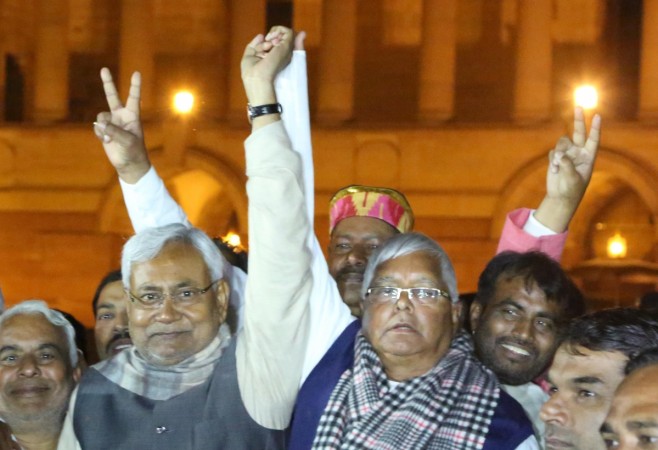 Barely nine months after quitting as Bihar Chief Minister, senior JD(U) leader Nitish Kumar was once again reinstated as the state CM on Sunday.
Governor Keshari Nath Tripathi administered the oath of office and secrecy to Nitish at the Raj Bhawan in Patna, reports The Times of India.
The 63-year-old was sworn in as Bihar CM for the fourth time in his political career.
He was invited to form a new government after Jitan Ram Manjhi's resignation ahead of the trust vote on Friday. The deadline for Nitish Kumar to prove his majority in the Bihar assembly is 16 March.
Along with Nitish, 22 ministers, most of whom were in his earlier cabinet, also took oath.
JD-U leaders said Nitish Kumar will seek a meeting with Modi in the first week of March to request more funds for the state's economic development, reports IANS.
The party's national general secretary KC Tyagi said that Nitish will meet Modi for the sake of Bihar's development.
"Nitish Kumar will certainly meet Modi soon," Tyagi told media persons.
Those who were inducted into his cabinet were Vijay Kumar Choudhary, Bijendra Yadav, Ramai Ram, Ramlashan Ram Raman, Damodar Rawat, P.K. Shahi, Shyam Razak, Lesi Singh, Dular Chandra Goswami, Awadesh Narain Kushwaha, Lalan Singh, Sharvan Kumar, Ramdhani Singh, Jai Kumar Singh, Baidnath Shahni, Bima Bharti, Ranju Gita, Narendra Narain Yadav, Naushad Alam, Ninod Yadav, Manoj Singh Kushwaha, and Jawed Iqbal Ansari.
Former prime minister H.D. Deve Gowda, JD-U president Sharad Yadav, Uttar Pradesh Chief Minister Akhilesh Yadav, West Bengal Chief Minister Mamata Banerjee, Assam Chief Minister Tarun Gogoi, former Bihar chief minister Manjhi and senior BJP leader Sushil Kumar Modi attended the swearing-in function.