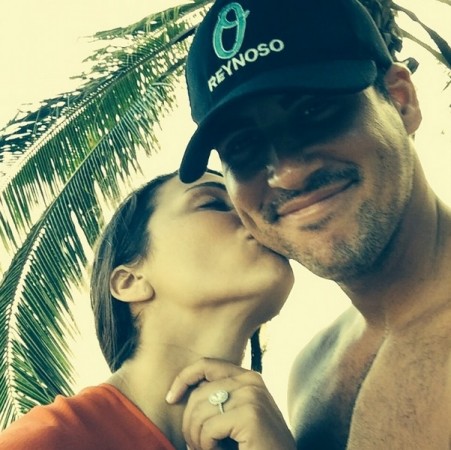 Nick Viall attracted the wrath of many when he revealed on national television that he and Andi Dorfman made love in the Fantasy Suite.
And now, it appears that the sales executive is not done with the topic, as he recently told E!Online that their time together was very "passionate and intimate."
Monday's finale saw Viall questioning Dorfman on why she slept with him if Josh Murray was going to be her final choice. Since then, a number of people, including Dorfman and Murray, have call Viall classless for revealing the details of a private moment on national television.
But Viall appears to have no regrets.
"I was true to myself and I'm proud of that. I suppose I could always have said things differently or bit my tongue sometimes—without question maybe you'd go back and do things a little bit differently, but I certainly have no regrest about putting myself out there, no regrets about focusing on her and doing what I thought was best for our relationship," he told E! Online.
Divulging about their Fantasy Suite date, Viall added that the level of intimacy he shared with Dorfman went beyond the act of sex.
"It was a level of intimacy that was far beyond just the act of sex for me, which obviously was part of it."
He continued: "It was just very passionate, intimate, personal and emotional, just with the fact that an engagement was on the line, and that was understood by both of us and I was very clear about my feelings, and she was very clear about where she wanted this to go and I was very clear about where I thought it might be going."
Meanwhile, Dorfman and her fiancé put up a united front during their recent television appearance to discuss the Fantasy Suite scandal. But Celeb Dirty Laundry reported that their relationship has been going through a rocky phase ever since Viall revealed about sleeping with Dorfman.
Reportedly, Murray feels cheated, as Dorfman accepted his proposal just a few days after sleeping with Viall. The Aug. 11 print edition of Life & Style Magazine also claims that Murray has a controlling side when he is feeling threatened, and Dorfman's admission to sleeping with Viall has made him insecure.
Murray is said to be constantly grilling Dorfman about whatever she does, and he is said to have lost his trust on her.
"Josh can be controlling and jealous," an insider told the magazine. "He's very insecure about the relationship, and even more so after watching everything unfold on TV and seeing Andi tell other guys she's in love with them."
"She's a fiercely independent person and loves going out with her friends," the insider added. "At first, she thought his jealousy was cute, but now that they're not hiding their relationship, he's jealous all the time and I'm not sure how cute she's finding it."