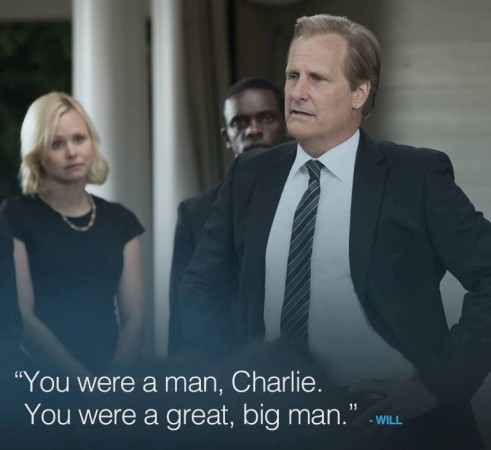 As "The Newsroom" is nearing its finale, the viewers are eager to know about the future of Atlantis Cable News (ACN) and its employees after the death of Charlie Skinner (Sam Waterston).
Though the fortune of ACN is at stake after the sudden demise of its president, official synopsis of the sixth episode titled "What Kind Of Day Has It Been" indicates that Lucas Pruit (B J Novak) will have a major role to play in the channel.
The synopsis states that Leona Lansing (Jane Fonda) will be giving some sage advice to Pruit and it could be either to buy the channel or to take up the role of president.
While the viewers have to wait until Sunday, 14 December, to know more about ACN and its employees, the trailer of episode 6 shows the news team struggling to run the channel in the absence of Skinner.
A sudden death leads Will McAvoy (Jeff Daniels) and MacKenzie McHale (Emily Mortimer) to ponder over the milestones that transformed the newsroom and look ahead towards ACN's uncertain future, according to the synopsis of "The Newsroom".
Meanwhile, the tables will turn against Jim Harper (John Gallagher Jr.) as well as Maggie Jordan (Alison Pill) when the latter receives a job offer of field producer in Washington and she will have to choose between romance and career.
Nevertheless, the fans of Waterston can still watch him in the finale of the political drama through flash back sequences, wherein every member from "The Newsroom" will talk about his or her personal relationship with the president.
Watch the sneak peek video of "The Newsroom" season 3 finale below: