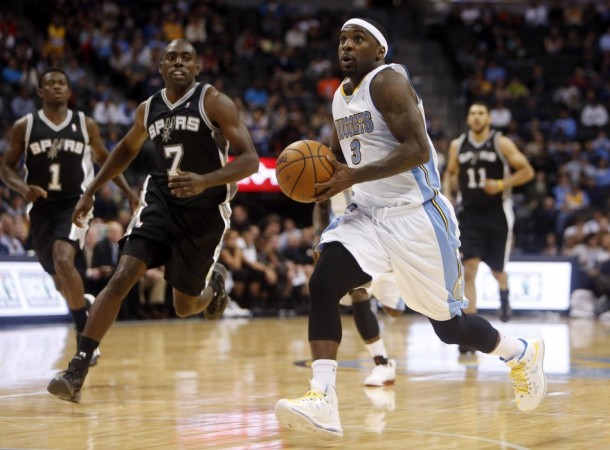 Kenneth Faried scored 22 points as he led Denver Nuggets to a 98-94 victory over San Antonio Spurs at the Pepsi Center.
Faried scored when it mattered as 11 of his 22 points came in the fourth quarter. Spurs were not at their best as they missed their three superstars - Tim Duncan, Manu Ginobili and Tony Parker - who opted to rest at home, than make the trip.
Kawhi Leonard was the standout performer for Spurs as he scored 13 points to add to his 12 rebounds. For Nuggets, veteran shooting guard Randy Foye and newcomer JJ Hickson scored 15 points each.
This was the first game in which fans got a chance to see new coach Brian Shaw take charge of the Nuggets. Shaw replaced George Karl, who was fired.
Nuggets had signed up Foye in the hope of improving their 3-point shooting percentage. Foye did not disappoint as he hit three out of five from long range. "It's just preseason," Foye said. "I'm trying to get my shooting touch going and trying to work as hard as I can to stretch the floor for those guys. We have guys who finish well around the rim, so I'm just trying to spread the floor."
Newcomers Nate Robinson and Hickson clicked for the Nuggets as they executed some wonderful moves. Robinson twice found Hickson on the break and he duly obliged by scoring.
"I come out of the pick-and-roll looking to attack, being aggressive," Robinson said. "He's rolling and he's looking to attack, so I just told him the ball's going to be there every time. If I beat my man and I see that the big is on me, I'll throw it to him. I just told him to go dunk on somebody. He got a couple of and-1s and made me look good, so I appreciate that."
Coach Shaw will be hoping for more as he evaluates different formations over the preseason. Nuggets will now face Oklahoma City Thunder in their next preseason game.