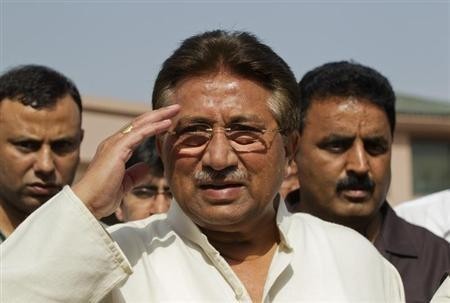 Former Pakistan president and military ruler Pervez Musharraf has been indicted with in the assassination of former premier Benazir Bhutto in 2007 on three charges, a Pakistan court announced on Tuesday.
In December 2007, the then Pakistan Peoples Party (PPP) chief Bhutto was assassinated just after her election rally in Rawalpindi. Musharraf, who came to power in a 1999 coup, was the head of the state at that time.
He had stated that Pakistani Taliban chief Baitullah Mehsud was responsible for the assassination. But the militant denied having any involvement in the killing. Mehsud was later killed in 2009 by a US drone attack.
Bilawal Bhutto Zardari, Bhutto's son, accused Musharraf of her murder. Bilawal is the current head of the PPP.
The court has now formally indicted the military dictator for his failure to prevent the murder.
Public prosecutor Mohammad Azhar after the brief hearing told Reuters, "He should be tried."
The decision came soon after a brief hearing in Rawalpindi. Musharraf is accused of murder, conspiracy to murder and facilitation of murder. He has denied all three charges levelled against him, Azar told Reuters.
Hundreds of police personnel were deployed for the hearing along the main road that leads up to the court as well as on the rooftops of nearby buildings. Security was tightened when Musharraf made his grand entrance at the court.
Reporters were not allowed inside the court during the trial and Musharraf did not make any public comments.
On 6 August, the same court had deferred the widely anticipated indictment due to death threats directed at 70-year-old ex-military dictator.
The next hearing in the case is set for 27 August.