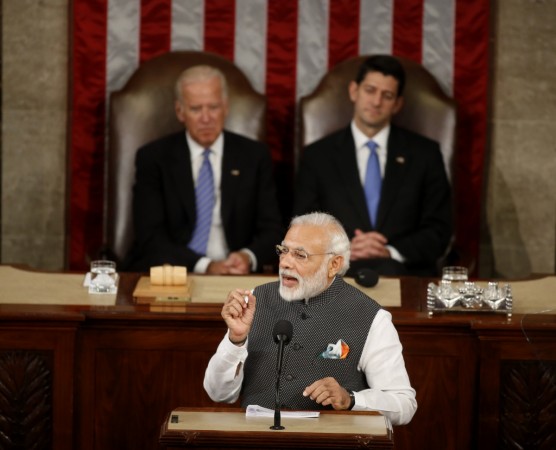 Prime Minister Narendra Modi delivered his maiden speech at the Capitol Hill on Wednesday while addressing a Joint Session of Congress in the United States. He touched upon a range of issues in his address, including terrorism, which he said was originating in India's neighbourhood.
"Although it's (terrorism) shadow is spreading across the world, it is incubated in India's neighbourhood," Modi said, apparently with reference to Pakistan. "I commend the members of the U.S. Congress for sending a clear message to those who preach and practise terrorism for political gains," he added.
India has time and again accused Pakistan of harbouring terrorism, which has been one of the major contentious issues between the two neighbouring nations. The serial bombings in Mumbai in 2008 were blamed on Lashkar-e-Taiba, whose terrorists came from Pakistan. The recent attack on the Pathankot Air Force base is suspected to have been carried out by Jaish-e-Mohammed, another Pakistan-based militant outfit.
U.S. President Barack Obama met Modi ahead of latter's address at the Capitol Hill and affirmed his country's support to India in its fight against terrorism, Press Trust of India reported. Both Modi and Obama "called for Pakistan to bring the perpetrators of the 2008 Mumbai and 2016 Pathankot terrorist attacks to justice," according to their joint statement.
Modi also said that the two countries need to "deepen our security cooperation" to tackle terrorism. Stating that "globally, terrorism remains the biggest threat," Modi raised concerns about the new challenges that are emerging in cyber and outer space.
He called for a policy that "isolates those who harbour, support and sponsor terrorists; that does not distinguish between 'good' and 'bad' terrorists; and that delinks religion from terrorism. "Also, for us to succeed, those who believe in humanity must come together to fight for it as one, and speak against this menace in one voice," he added.
On Wednesday, Modi became the fifth Indian prime minister to address a joint meeting of the U.S. Congress, after Manmohan Singh, Atal Bihari Vajpayee, PV Narasimha Rao and Rajiv Gandhi.