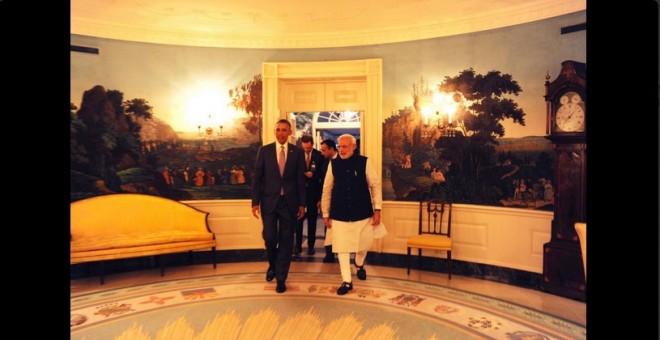 Prime Minister Narendra Modi engaged in a high-level summit talk with US President Barack Obama at the White House on Tuesday, the final day of his five-day US trip, wherein the two leaders discussed issues ranging from terrorism to defence and from civil nuclear cooperation to India's business policies.
India-US Summit discussions underway in restricted format. pic.twitter.com/QvqZcHGH0m

— Syed Akbaruddin (@MEAIndia) September 30, 2014
"We have decided to deepen ties with India," Obama said at the joint press meet after the summit talks.
"This visit has reinforced my conviction that India and US are natural partners," Modi said. "President Obama and I discussed several economic priorities and I believe that in the near future India will move faster towards progress."
Modi laid out the points discussed at the high-level summit talks.
TERRORISM: Both nations are taking the issue of terrorism very seriously, and the topic was expectedly discussed at length at the meet. "We have agreed to cooperate in the area of counter-terrorsim. We discussed the issue of terrorism in West Asia and beyond," Modi said. "We have both agreed to also continue offering support to Afghanistan."
India-US to work together on disrupting financial & tactical support for LeT, JeM, D-company & Haqqani network. — Syed Akbaruddin (@MEAIndia) September 30, 2014

However, as per latest reports from the meeting, the issue of Pakistan ands its state-funded terrorism was not touched.
BUSINESS POLICIES: Modi pushed his idea of making India a more business-friendly country, by promising to change 'policies and processes'. "In India, we are focusing on changing processes and policy to make it easy to do business," Modi said.
He reiterated his 'Look East, Link West' motto that he had announced during the launch of his 'Make in India' campaign last week.
"America is an integral part of our 'Look East and Link West policy'", Modi said, while calling for cooperation by the US with India's service companies.
CIVIL NUCLEAR COOPERATION: The two leaders also committed to move ahead in the area of civil nuclear cooperation.
"We have agreed to take civil nuclear cooperation ahead. This will be very significant for India's energy security," Modi said.
India-US Group to address all implementation issues to speed up deployment of US origin nuclear reactors in India.

— Syed Akbaruddin (@MEAIndia) September 30, 2014
DEFENCE: Modi brought up co-production and co-development of defence hardware, which will be collaborated by the two nations. "We want to take defence relations ahead. I want to welcome US defence companies to participate in developing Indian defence companies," Modi said.
India-US decide to renew Framework Agreement for defence cooperation for a further 10 years. — Syed Akbaruddin (@MEAIndia) September 30, 2014
US to cooperate as knowledge partner for India's planned National Defence University.

— Syed Akbaruddin (@MEAIndia) September 30, 2014
FOOD SECURITY: The recent issue of India's focus on subsidies for farmers that derailed the recent World Trade Organisation talks was also on the table. "India supports trade facilitation but I also wish that our food security concerns are also taken care of," Modi reiterated.
CLIMATE CHANGE: Modi said that the two leaders also regarded climate change as an important issue for both nations and have agreed to cooperate closely on it.
EBOLA: While India has not been globally active in the international fight against the humanitarian crisis caused by the Ebola virus disease in Africa, Modi stepped up India's role in countering the epidemic, by pledging $12 million for the crisis.
"India has also agreed to extend 12 million dollars for Ebola crisis," Modi announced.
The Indian PM also extended the warm camaraderie seen between the two leaders on Monday night, by inviting the Obamas to visit India
"I have extended an invite to President Obama and his family to India," Modi concluded.
Earlier in the day, in his meeting US Defence Secretary Chuck Hagel, Modi pushed for India and America to renew their defence agreement for the next 10 years.
India is said to have also asked America to make its troop withdrawal process from Afghanistan smooth and peaceful.
The meeting, which took place at the Oval Office in the White House, came after an informal dinner between the two parties wherein gifts and thoughts were exchanged, and after a long, detailed and rare joint editorial penned by the two leaders in The Washington Post.
In the editorial, the two leaders had laid out areas for a new agenda to strengthen the Indo-US partnership. The agenda, according to the leaders, would enhance 'collaboration in trade, investment and technology', and the two leaders had agreed to discuss ways of boosting manufacturing and expanding renewable energy.