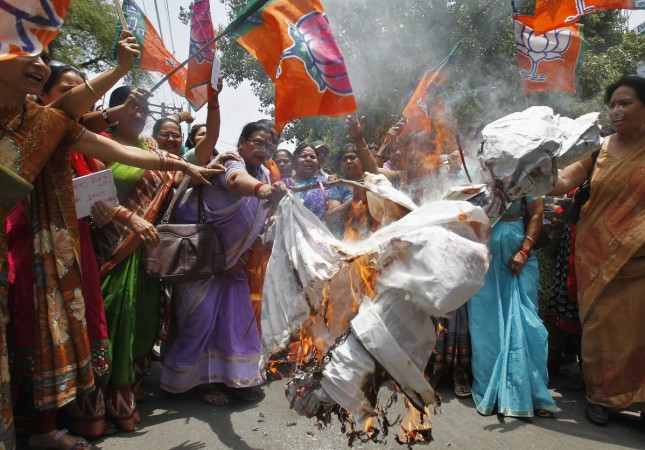 Prime Minister Narendra Modi has asked politicians to refrain from making insensitive comments about assaults on women, and urged them to "stop psychoanalyzing rapes".
"Does it suit us to make comments on such incidents, can we not be quiet? We are playing with the dignity of women," Modi said in his parliamentary address on Wednesday, in the light of controversial remarks on rapes by politicians across the country, which have sparked national outrage.
Modi's message could not have come sooner, with news channels reporting subverted remarks by politicians on atrocities against women almost every day. Here are some of the recent controversial ones –
"Obscene images responsible for rape" - Maharashtra Home Minister RR Patil was the latest politician to have made a gaffe, when it came to addressing the issue of assault on women. The politician blamed "obscene images" for incidents of rape along with a decline of moral values. He also reportedly said that posting a policeman in each house will not stop rape. However, he later said that his statement had been distorted.
"Rapes happen accidentally" - Chhattisgarh home minister Ramsevak Paikra's comment that "rapes happen accidentally" raised hackles internationally for his gross insensitivity to the serious issue, with even international press picking up the remark. "Nobody commits rape on purpose, it happens by mistake," IBN Live, quoted him as saying.
"Rapes happen everywhere, not only in UP" - Akhilesh Yadav, chief minister of Uttar Pradesh, a state that has witnessed some of the most horrific rape cases in the recent past, was reported to have brazenly sidelined the issue by suggesting a "Google search" to know that rapes happen everywhere.
"When such incidents occur it is publicized a lot... such incidents don't occur only in UP and if I give you statistics across the country you will again ask me questions. It's Google era. If you go online and check you will see where else such incidents occur," Yadav told journalists, according to NDTV.

"Boys will be boys" - Akhilesh Yadav's father and Samajwadi party chief Mulayam Singh Yadav had delivered a shocker in April in his opposition to capital punishment for rape when he said, "Boys will be boys, they commit mistakes". His comment came in the light of the death penalty given to the perpetrators of the Mumbai gang-rape. He further said that his government would try to change the anti-rape laws that entail a death sentence for the crime.
He also sparked outrage for his recent dismissal of increasing crimes against women in his state when he told journalists, "You do your work, I will do mine".
"Rape is sometimes right, sometimes wrong" – Madhya Pradesh home minister Babulal Gaur made one of the most derogatory remarks on the issue when he said, "This is a social crime which depends on men and women. Sometimes it's right, sometimes it's wrong," as was reported by Reuters.
No respite from women leaders - Even women ministers have often been caught being insensitive to the plight of victims and their families. In March this year, West Bengal chief minister Mamata Banerjee was reported to have defended her government's delay in ensuring justice to the family of a rape victim.
"What can we do if the family members move to a higher court or roam around going to different courts or to the President? When a court will give judgment, it's not in my purview," India Today quoted Banerjee. She had earlier faced severe flak for dismissing the Park Street rape case as an attempt to malign her government. Another woman leader of Banerjee's party, Kakoli Dastidar, had made a shocking statement when she said that the Park Street rape was merely a "misunderstanding between the woman and her client."