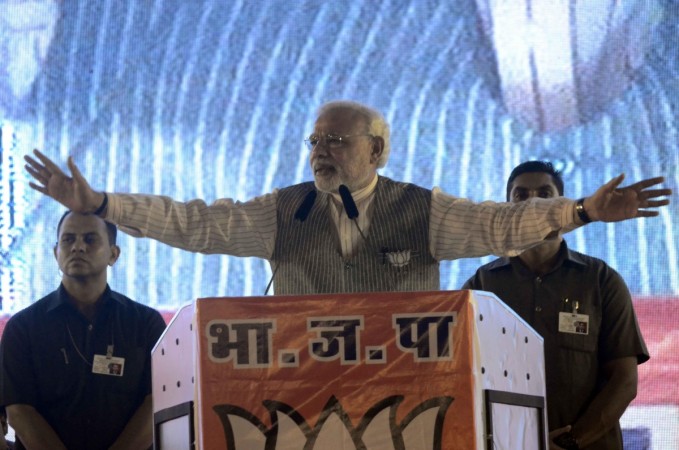 On the final day of his campaign rally in Maharashtra ahead of the assembly polls, Prime Minister Narendra Modi, once again targeted Congress and blamed it for lack of development in Sindhudurg district's Kankavali town.
Updates: 15:30pm
PM Modi : God gave this region everything to attract tourists,but the Govts only looted you, this is the reason this region never developed

— ANI (@ANI_news) October 13, 2014
PM Modi : We have to free Maharashtra of dynastic politics,ppl have trust in democracy that is why they voted for an ordinary man like me

— ANI (@ANI_news) October 13, 2014
Earlier, while campaiging in Palghar, Modi reminded the spectators how BJP government has always worked for the welfare of the district while Congress ruled just for benefit.
10:15am: Modi praised the BJP-led government for working towards the development of the state. and talked about the Indian Prime Ministers who ruled the country earlier. While referring to the UPA government, Modi mocked at Congress President Sonia Gandhi, saying she ruled the party from behind the curtain.
He reiterated that Congress, which did nothing for the past 60 years, has only claimed to have done much for the people of Maharashtra, but never gave an account of what they did.
"During their rule, they have just looted the people of Maharashtra — from mid-day meals, from the poor and from farmers," Modi said.
10am: Addressing the people of Scheduled Tribe in the district, he said Congress never cared about their welfare, but BJP always had concern about them.
"It was BJP leader Atal Bihari Vajpayee who made a separate ministry for the development of the tribal community, so the party is still focused on carrying forward Atalji's dream for the welfare of tribals," he said
9:50am: Showing his concern towards the fishermen of Palghar, Modi said the situation in Maharashtra and Gujarat is similar - fishermen from both the states have faced similar troubles from Pakistan and several of them are held captive and even their boats are also captured.
Fishermen of both these places are locked up in jails of Pakistan. After taking oath as PM I took up this issue with Pak : PM Modi

— ANI (@ANI_news) October 13, 2014
Representing the candidates from the Palghar district, Modi concluded his speech in Palghar by asking the people to vote for BJP in the 15 October assembly election and bring development to the district.