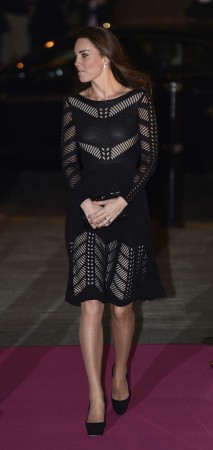 Kate Middleton, who is pregnant with her second child, has reportedly expressed a desire to have two more children before she turns 36, according to a new report.
It is a well-known fact that the Duchess of Cambridge suffers from severe pregnancy related morning sickness, but that apparently has not put her off from planning two more future pregnancies.
"If Kate has her way she'll be the mom of four royal babies by the time she turns 36," a source close to the royal family told Globe, according to Celeb Dirty Laundry. "She is determined. She refuses to be beaten down by the crippling illness condition that has laid her low twice now. She wants two more children after this pregnancy and she will put up with vomiting and severe dehydration to complete their family."
This desire to have four kids, says the website, is to please Queen Elizabeth, who has four children. But Prince William reportedly hates to see his wife sick, and he has been trying to talk her out of having any more children after this pregnancy, the royal source noted.
Contrary to Globe's claims, The National Enquirer reported last month that Middleton had expressed a desire to stop with just two children, as she did not want to go through further morning sickness.
Shortly after the palace confirmed her second pregnancy in September, the Duchess took leave from royal duties so that she could recuperate As both her pregnancies have been difficult and debilitating in the initial stages, it is believed that she might go through the same ordeal if she got pregnant a third and fourth time.
"Originally, the couple had talked about having lots of kids–but hadn't anticipated Kate enduring such a tough time. She was terribly worried Wills would be heartbroken–but he was touchingly sympathetic!" a source told The National Enquirer, according to The Epoch Times.
Middleton is expected to give birth to her second child, rumoured to be a girl, sometime in April.