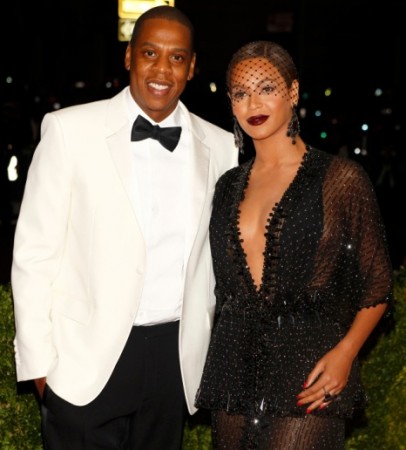 Beyonce and Jay Z might not be bothered about what others think about the rapper's alleged fight with Solange, Beyonce's sister. But that has not stopped the Internet from spewing a number of memes poking fun at Solange attacking Jay Z, while Beyonce stands in a corner adjusting her dress.
The video of the incident, which reportedly occurred post the Met Ball, was posted online by TMZ, and since then it has gone viral. The video has even given rise to the hashtags "Elevatorgate" and "WhatJayZSaidToSolange" and a number of online users believe the fight was due to Jay Z allegedly cheating on Beyonce.
"Apparently Jay-z is cheating on Beyoncé, and Solange found out, so to defend her sister's honor, she kicked and yelled at him in the lifter," one Twitter user wrote, while another added: "Jay-z was probably cheating on Beyonce and Solange took her sisterly role seriously."
The reason for the attack is yet unknown, but Solange appears to be on a deleting spree on her Instagram account. She has removed all traces of her sister from the photo-sharing app, barring one, which shows Solange and Beyonce with another friend.
Meanwhile, the Internet has been busy with memes on the scuffle.
Check out the top five reactions to the scandal.
"@OfficialDave__: I can't take this anymore. #deadass #WhatJayZSaidToSolange pic.twitter.com/n9vtT04WvD"@PrincessNyEela

— ♕ A F R I C A ♕ (@Demi__Lade) May 13, 2014
After the Jay Z and Solange fight, Jay Z be like.. ? #WhatJayZSaidToSolange #JayZSolange pic.twitter.com/GCh8ZRrM4d — Onkarabile C★ Mokoto (@Chockie_M) May 13, 2014
Ok , I'm Done .#ElevatorGate #IWokeUpLikeThis #SolangeGate #solangevsjayz pic.twitter.com/fLT48HoVSb — Madi (@bemamadina) May 12, 2014
En attendant d'apprendre le pourquoi du comment du #ElevatorGate... rions !!! #JayZSolange #Solange #TMZ pic.twitter.com/QxmzRQOi92

— lionel maurel (@lionelMau) May 13, 2014
Jay-z got 99 problems and solange every last one pic.twitter.com/kdb691Z3qh — LIL BOOSIE (@Iilboosie) May 13, 2014
Great memes from today's #Elevatorgate. @eonline posted their fav here http://t.co/sCSffsdrNn ,but I like this one. pic.twitter.com/eXCmJioUEN

— Sly Minx (@1SlyMinx) May 13, 2014
Ouch.. #WhatJayZsaid #ElevatorGate #Beyonce pic.twitter.com/DnHcOEgi6F — SocialFamily Records (@SocialFamilyREC) May 13, 2014