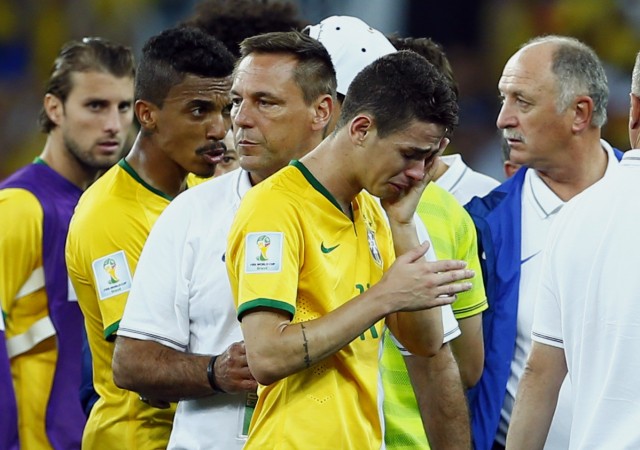 When Brazil lost 1-7 to Germany in the semi-finals of the widely-watched FIFA World Cup earlier this month, the nation had virtually gone into mourning, and assumptions were rife that the loss would have an adverse impact on the nation's economy.
However, it is not just Brazil's economy that faced a backlash of the humiliating defeat, the south American nation also seems to have lost some political ground after the match.
Israel on Thursday called Brazil a "diplomatic dwarf" and went on to rebuke the nation over its 1-7 loss. The statement by an Israeli foreign minister came after Brazil condemned Israeli attack on Gaza, calling it a "disproportionate use of force", the Washington Post reported.
"This is not football. In football, when a game ends in a draw, you think it is proportional, but when it finishes 7-1 it's disproportionate. Sorry to say, but not so in real life and under international law," Israeli Foreign Ministry spokesman Yigal Palmor rep said on Thursday in reply to Brazil's condemnation.
The minister then defended his country's actions saying: "Israel's response is perfectly proportioned in accordance with international law".
He further rebuked Brazil saying, "This is an unfortunate demonstration of why Brazil, an economic and cultural giant, remains a diplomatic dwarf".
Brazil was among 29 nations in the United Nations Human Rights Council that voted for an international probe into Israel's offensive.
What sparked Israel' World-Cup-related outburst was a statement put out by the Brazilian Foreign Ministry on Wednesday that announced the recall of its ambassador from Israel. Brazil is said to be only the second country to have done so after Ecuador.
Brazil stated that the "escalation of violence between Israel and Palestine was unacceptable".
"We strongly condemn the disproportionate use of force by Israel in the Gaza Strip," the Brazil Foreign Ministry said in an official statement.
This seems to be the first time that Brazil has been chided on a political platform for its World Cup loss.
Earlier, reports had suggested the defeat could upend the nation's already troubled economy.
Brazil had historically had good relations with Israel until it decided to recognize the Palestinian state in 2010.