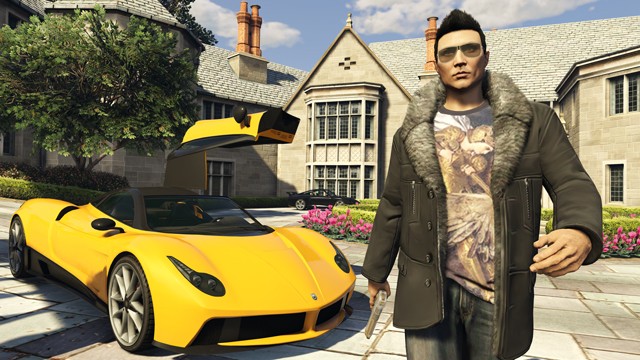 If you are a GTA 5 enthusiast, looking at exploring the recent in-game stuff options that are newly added this week, then you can check out below the newer enhancements that are currently live within GTA Online this week.
This information, shared by renowned game tipster MrBossFTW via his new video (available at the end), can be checked out below:
Stunts and Entourage Bonuses: This is a new event, within GTA online, live during Aug. 19-25, 2016. This event lets you double your money and RP, obtain new entourage maps and more.
Double GTA money and RP in Entourage Mode: This aspect, offered by the Stunts and Entourage Bonuses event, lets you unlock three new entourage maps, as well as obtain double in-game currency and RP. If you intend to check out the double money aspect, do remember to maintain your playlist to stand a realistic chance of making money playing the entourage mode.
Location of new Entourage maps: The new maps are found in the El Burro Heights, Paleto Bay and Pillbox Hill, respectively.
Along with the above newer aspects, Rockstar is also offering discounts to Rockstar created stunt races. However, these in-game discounts are not applicable to custom-created stunt races.
Double money and RP are also applicable to all Rockstar-created stunt races in Entourage.
New in-game stuff: These are the Red Stuntman Jumpsuit, which is unlockable, and can be acquired by simply signing into GTA online between Aug. 19-25.
Increased discounts: You will be able to obtain select cars, for a discount of as much as 25 percent. These vehicles are: X80 Proto, Tyrus car, Seven 70 and Desert Raid. Also, a discount of 50 percent is applicable to the Heavy Insurgent and Insurgent pickup vehicles in GTA online.
Discounts on Ammunition: Rockstar is also offering a 50 percent discount on GTA 5 ammunition, such as Minigun, Sniper Rifles and Launchers along with Ammo.
Usage of Job Points (JPs) in GTA Online: These are automatically added to your account after you successfully complete a job/race. JPs are used in GTA Online to indicate to other players if you are among the ones who complete an increased number of jobs. JPS are also used to indicate the different positions in different kinds of jobs for preparing leaderboards, playlists and to determine tie-breakers.At this point in time, do remember that Rockstar's official statement regarding Job Points is still confusing to say the least. This is considering the fact that JPs are not carried over to other sessions/playlists.Job Points need consideration at the end of races, apart from monitoring the amount of money earned along with the Reputation (RP) acquired.
Finally, Rockstar has also incorporated a new stunt race called the Plummet, which can be launched from the Premium Race menu.