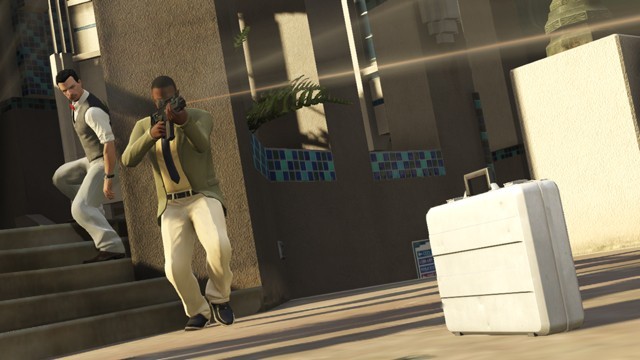 Stemming from Rockstar's announcement of PC, PlayStation 4 and Xbox One ports for GTA 5, rumors have begun to circulate on GTA 6, the next in the popular franchise.
Rockstar has stated nothing that suggests that it would end the popular run of GTA titles with GTA 5. Also, the company has not pushed aside the idea of GTA 6, though it has not categorically stated that it would develop GTA 6.
The company had previously revealed that it has ideas worth 45 years, which brought big smiles to its fans.
"We've got about 45 years worth of ideas we want to do. We don't know what GTA VI will be, but we've got some ideas. GTA Online is the focus right now. There ain't no rest between finishing V and then online. Plus we have some other things - stuff, DLC, I don't know how to describe it exactly - that we'd like to do, and we'll pick the right ones," said Leslie Benzies, president of Rockstar North, the developer of GTA 5.
We do know that porting GTA 5 to the new platforms will take most of its time but a team of developers might already be working on the next game in the series.
New York as Location?
During an interview for Ballerstatus, DJ Whoo Kid hinted that the next title in GTA will take place in New York. He had acknowledged that GTA 6 will be based in 'Liberty City', which is a fictional New York City.
Rockstar has reportedly trademarked the term 'City Stories.'
Or will the franchise leave the US shores?
Rockstar had previously suggested that the game's story does not have to stay put in a fictional US as it stated that the game will not be limited to what it has been all these years.
"At the moment it feels like [Grand Theft Auto's] D.N.A. is contemporary-ish, America-ish, English-speaking-ish, because that's what it has been... But that doesn't necessarily limit it to those, that's just what we've done so far," said Dan Houser, co-founder of Rockstar, in an interview to GameRant during the GTA 5 release.
Other possible locations which are doing the rounds are Paris, London, Brazil and Los Angeles.
Another news was the title 'GTA 6: Return to Vice City', which was probably a fake rumor that quickly got into online media. But we must also note that Vice City is the fictional Miami.
Release Date Set for 2017?
One outcome of these seemingly dubious and unverified sources is a release date for GTA 6. The date currently doing the rounds is 2017, which can be taken as a possibility, considering GTA 5 PC and next-generation ports will be out by 2014.
Most of the rumors are fuelled by the excitement from its followers who would love to have GTA 6 sooner than later. If Rockstar has to avoid such rumors, it must increase the amount of DLCs it provides and give more hints on which way it is heading. The most recent DLC from Rockstar was "I am not a Hipster" and the Independence Day Special DLC for GTA 5.