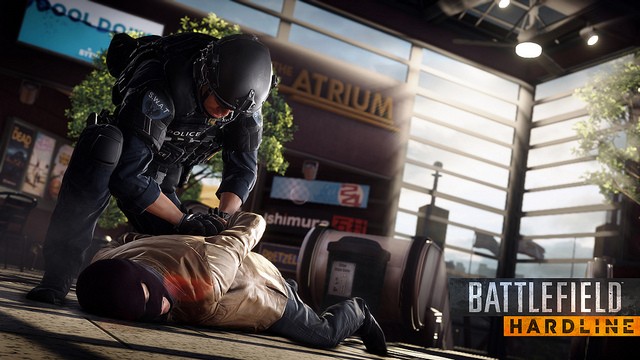 At the ongoing gaming event Gamescom 2014 at Cologne, Germany, many new upcoming games have been showcased. Among them is EA's newest game Battlefield Hardline.
The publisher showcased multiplayer modes for the game, via a 12-minute video footage.
Hotwire and Rescue are the multiplayer modes which were reportedly playable at Gamescom. In Hotwire, cops and criminals will be able to ride in vehicles as they use to target other marked vehicles. Rescue is a 5v5 mode with the task of saving the hostages.
The trailer shows how players in a single player can use stealth and non-lethal ways to take down some of the criminals, not making much of a noise around, and thus not alerting other criminals.
Also, players can use distractions like the one in the game, where they draw the attention of the criminal by dropping a bullet casing. So when he comes close to the casing, the player will be able to take him down in no time and without firing his gun.
Though players are given the option of either going stealth or fighting their enemies head-on, it is their choice depending upon the guns they have and the threat perception.
The video shows how a scanner that is picked up after a fight is helpful to know the location of the enemies from a distance. Scanners will also be able to track weapons, objects, enemies and also track the high profile target among them. Another major gadget that can be used in a non-lethal format is the taser.
The video reveals that players will be able to show their badge and can ask them to freeze. So when the criminals submit, the cops will be able to apprehend these individuals and can handcuff them. A stun gun in action is also shown in the video.
Also players will be earning huge bonus if they manage to arrest the individuals, instead of just killing them.
Once their objective is complete, players can zipline themselves off to obscurity and escape the ensuing sea of bullets. But it is up to them what they want to chose.
(YouTube courtesy: Battlefield)
The trailer below shows how a team of five SWAT players are tasked to rescue hostages which have been held by five criminals. This mode does not allow player to be trigger happy, since each player has to communicate with the others and strategise how they will approach the task.
Players will be able to shoot only if the enemy starts shooting first.
Battlefield Hardline release is delayed and now it is expected to be released by early 2015.
(YouTube courtesy: Official EA UK)