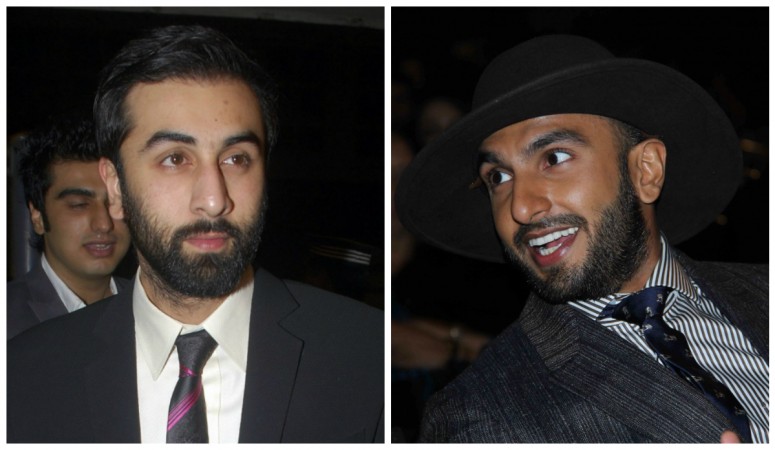 Videos of Ranveer Singh and Ranbir Kapoor dancing together at a party in the presence of Deepika Padukone have gone viral on social media. Although the duo's bromance had suggested that they are two of the best buddies in B-Town, the remark made by Ranveer while exiting the venue added some spice to the all hunky-dory situation.
While Deepika is Ranbir's former girlfriend, she is rumoured to be currently dating Ranveer. The video of Ranveer and Ranbir shaking legs together had suggested that the two actors share a great rapport. However, when Ranveer was asked about his dance with Ranbir at the party, the former made a rather pinching comment.
"Oh yes, but look who's going home with the girl," Mumbair Mirror quoted Ranveer as saying, when photographers outside the venue quizzed him if he met Ranbir at the party.
Ranveer had started trending some time back after videos of him dancing in front of a theatre in Paris that was running Salman Khan's "Sultan" surfaced on the internet. The audience in the theatre had gone crazy and joined him in the act.
However, this apparently did not go down well with Salman. When asked to comment on Ranveer's "Sultan" act, the superstar had said, "I wanted to break a chair on his head. Watch the film, don't do stunts. They aren't watching 'Sultan,' he is making people watch him there. We should charge money from him."
Ranveer was later asked to comment on Salman's remark at the "Madaari" screening but the actor smartly dodged the question, saying, "We have gathered here for 'Madaari,' and so, it would be great if we can talk about it and not any other film."