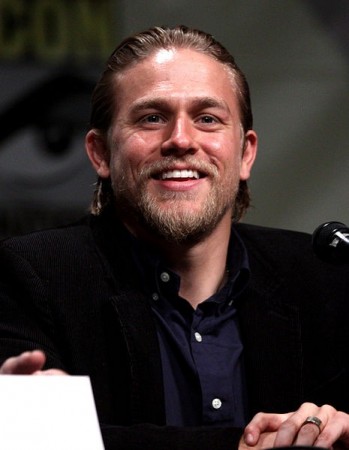 The latest victim of celebrity death hoaxes is "Sons of Anarchy" star Charlie Hunnam. The news of the actor's death went viral, when a Facebook page titled "RIP Charlie Hunnam" attracted more than a million likes.
The "About" section of the page read as "At about 11 a.m. ET on Tuesday (June 17, 2014), our beloved actor Charlie Hunnam passed away. Charlie Hunnam was born on April 10, 1980 in Newcastle upon Tyne. He will be missed but not forgotten. Please show your sympathy and condolences by commenting on and liking this page," reported Media Mass.
Hunnam has millions of fans and, hence it was no surprise that within minutes, Facebook users reacted in disbelief, expressing their condolences. However, there were some fans who questioned the authenticity of it all as the none of the established news sources carried the report.
Here are some reactions on Twitter:
This Charlie Hunnam internet death hoax isn't funny. I literally judged started to cry uncontrollably. You people are fucking with my life.

— Ryan Michaud (@Ryan_Michaud) June 18, 2014
who the fuck started the charlie hunnam death hoax!? best be careful or I'll go "gemma" on u... #wtf! #NOTfunny

— r o s e (@pnutsplace7) June 18, 2014
The news of Hunnam's death was later debunked by his representatives, as per the report.
Hunnam has become a household name with the burgeoning popularity of FX's biker drama "Sons of Anarchy" (SOA) and gained more attention when he denied the controversial role of Christian Grey in the movie adaptation of "Fifty Shades of Grey". Hunnam also found success with his science fiction monster film "Pacific Rim" (2013).
Hunnam is alive and kicking, and was recently seen in an orange jumpsuit while shooting for the last season of "SOA".
"I have had some family stuff going on so just trying to stay focused and stay positive and keep trying to do a good job at work and be with my family and stay positive," the actor recently said in an interview to E!.
"It's obviously going to be a really emotional time for us. We are like a family and have become very, very close and become dear friends to each other so it's going to be sad and finish up and say goodbye to everyone, but we've got like 13, maybe even a few more, episodes," he added.
Hunnam even suggested that the last season of "SOA" may be extended.
"There's rumor that we might do a couple of more episodes and do a little bit of an extended season next year, so we will see if that happens. It may or it may not. But I just want to finish that strong and go on to a new chapter of life. "