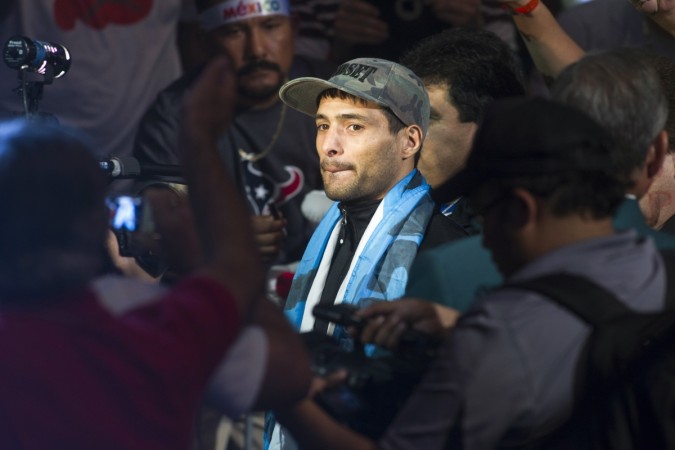 Though people around the world have been talking about the fight of the century between Floyd Mayweather and Manny Pacquiao, a 12-round super lightweight bout on Saturday night between Lucas Matthysse and Ruslan Provodnikov grabbed headlines as the Argentine boxer defeated the Russian.
It was one of those brutal fights with both the boxers having a great go at each other, as Matthysse won the bout via a close majority decision. It was a fight that could have gone either way.
The Russian camp might be eager for a rematch, but Matthysse's promoter, Oscar De La Hoya is not too keen and is looking at other options.
"I said before the fight that Lucas deserves the big names like Manny Pacquiao. Right now we will explore our options. He will take a little break, maybe fight in Argentina," Bad Left Hook quoted De La Hoya as saying.
Now, the Argentine boxer also has bigger dreams after his great fight with Provodnikov as he wants to fight the winner of the mega bout between Pacquiao and Mayweather, which is scheduled to take place on 2 May at MGM Grand.
"I'm ready to take on the next great fighter. I am ready to take on the winner of (Floyd) Mayweather-Pacquiao," he said.
But, one will not be surprised if both Pacquiao and Mayweather turn down the offer, even if it comes.
There are a number of boxers, who have shown some interest in fighting with either of these champion boxers. Amir Khan is one such British professional, who has always wanted to fight against the best. He was said to have shown great interest in fighting Floyd Mayweather, before the Pacquiao fight was given the go ahead.
But, now the boxer seems to be eager to fight Pacquiao.
"I want this fight. I would love to box Manny. We've been looking at an event in Dubai and Abu Dhabi is only a short drive away. It's a dream of mine to fight in that part of the world," Daily Mail quoted Khan as saying.
Amir Khan is expected to be present at MGM Grand for the mega fight between "Pac-Man" and "Money".