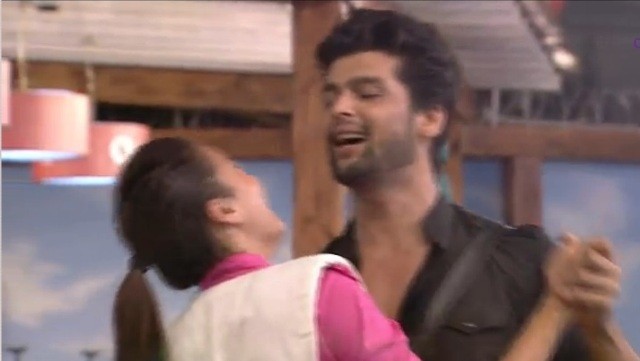 Bigg Boss 7's mischievous entertainer Ajaz Khan had a rough day with his emotions taking a toll on him.
Ajaz has time and again professed his love for Gauhar, despite her association with Kushal. The actor has confessed having fallen for the model during the show and host Salman Khan too has teased him.
On Friday, Ajaz dressed up as woman in skimpy clothes and called himself 'Haseena Apa' in the event of a secret task. With his hilarious avatar, he sent everyone in the house into peals of laughter and created a happy atmosphere.
Despite lifting the spirits of the contestants, Ajaz got depressed at one point.
A party was organised in the event of Sofia's birthday, where everyone sang and danced and made merry as a birthday cake was cut. Initially, Ajaz was seen enjoying along with others dancing to Bollywood beats.
But when, a love ballad started playing and Gauhar and Kushal got into a romantic mood, swaying to the music, a disheartened Ajaz went glum ad quietly slipped into the bathroom area of the house. He was recorded crying miserably and looked heartbroken.
Kamya sensing something amiss came in to take him out and the actor tried to act normal.
He was later seen speaking to the camera. "The Bigg Boss house is a strange place, at once you laugh at another you cry...it makes you strong...I can forgive anyone now."
Friday's episode was one rare such day where the emotional quotient got the better of fights and arguments. At one point, Armaan said to Tanisha that he hated being part of the fights and termed them useless. He also voiced that being called 'buddha' (old) saddened him. Tanisha comforted the actor and asked him to forget hurtful things.