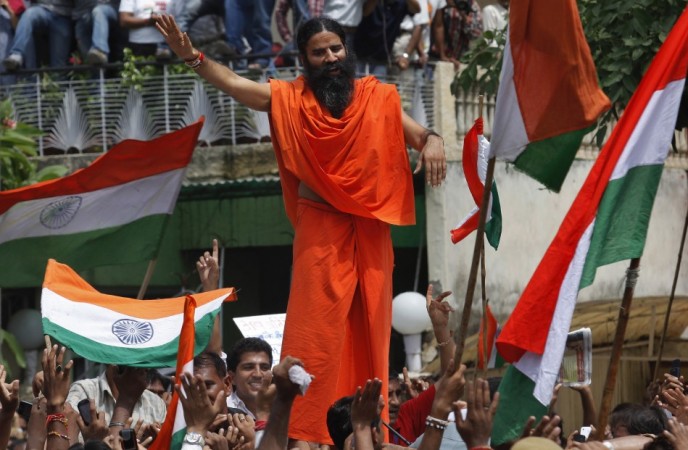 Baba Ramdev on Sunday announced that he would soon launch "Swadeshi" jeans for the youth of the country. Ramdev said that he is looking to expand his business venture into the garment sector soon to launch "Indianised" jeans considering the huge demand in India. With it, he also intends to compete with international brands.
Ramdev said that he is expanding his business to put an end to the dominance of multinational corporations that have been capitalising India's markets for decades.
"Patanjali's plans involve getting into the garment sector, especially 'Swadeshi' jeans that the youth of the country are demanding. It also wants to enter edible oils and home products like toilet cleaners. There's a huge vacuum in the market for quality products and Patanjali enjoys enormous public loyalty that ensures success for all our products," Ramdev said.
"When we want Indians winning medals in sports, why can't we develop the same spirit in economic pursuits and excel in businesses on our own? My fight is against foreign companies trying to take over our economy," the yoga guru added.
Ramdev also announced that he is set to launch Patanjali products globally and has decided to set up its units in foreign markets including Nepal, Bangladesh and some African nations. He also said that he would not hesitate in setting up Patanjali units in Pakistan and Afghanistan, if he gets the required permit.
"We've set up factories in Nepal and Bangladesh and are now approaching African nations. Profits earned would be used in those countries for development, and won't be ploughed back to India. Our products have reached the West Asia and are popular even in countries like Saudi Arabia," Ramdev said. He also added he is planning to cater to rich countries like the United States and Europe through exports of his products.
Ramdev also said that his proposed plants in Mihan, Nagpur, will be the biggest unit in the country and that he will invest a sum of around Rs 1,000 crore for the infrastructure and machinery in the area.