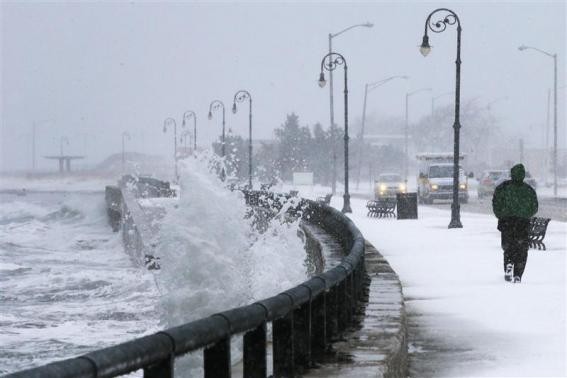 With Arctic becoming warmer, climatic change is unlikely to lead to extreme cold weathers, according to a new study.
During the past years, Arctic has experienced warmer temperatures than anywhere else on Earth, suggesting it would alter the winter weather patterns. The drop in winter temperatures is attributed to the Arctic amplification phenomenon.
It is also due to this phenomenon that a number of severe cold days has been experienced in recent years over Europe and North America. In early 2014, the US has seen extreme cold temperature. The mercury level dropped considerably across a number of US states. Minnesota recorded -37°C, while even tropical Florida saw fewer freezing days. About 190 million people were believed to have been affected.
A new study, however, suggest that Arctic amplification has actually reduced the extreme cold weathers across Nothern Hemisphere.
"Autumn and winter days are becoming warmer on an average, and less variable from day to day. Both factors reduce the chance of extremely cold days," said Screen, in a news release.
The new research was carried out by James Screen at University of Exeter. Screen observed the detailed climate records for the past few decades and found that winter temperatures across the polar regions of the Northern Hemisphere have less fluctuated ever since the Arctic has warmed.
Researchers had assumed that jet stream in the Northern Hemisphere has weakened due to Arctic's warm climate. A jet stream is a narrow stretch of air that strolls throughout Northern Hemisphere's temperate zone. This air is driven by variation in temperature between the Arctic and the tropics that eventually affect temperatures in the Northern Hemisphere. The changes in air current also suggest that several areas in the North would face severe winters in the future.
"Cold days tend to occur when the wind is blowing from the north, bringing Arctic air south into the mid-latitudes. Because the Arctic air is warming so rapidly these cold days are now less cold than they were in the past," Screen added.
Screen, with the help of a mathematical computer simulation of the climate, tries to forecast the weather trend in the future. The analysis suggests that temperatures will become less variable in the coming years.
The study, however, does not focus on how the change in climate will affect other parts of the world. The study is published in the journal Nature Climate Change.