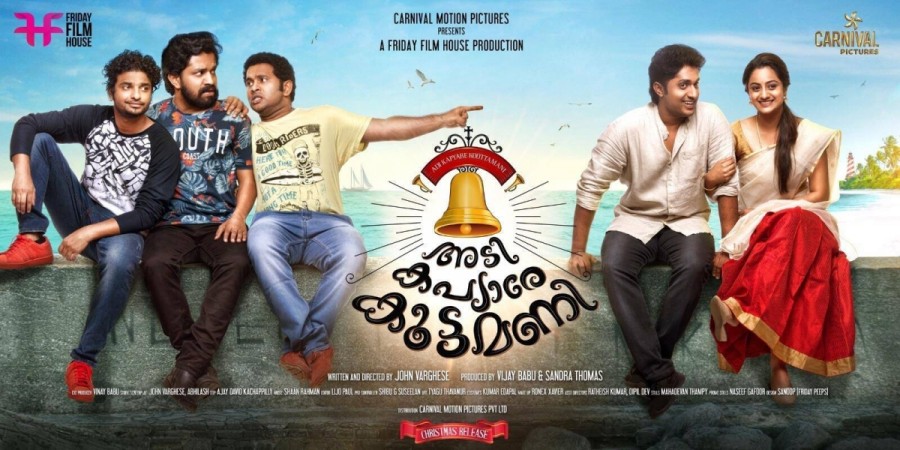 The upcoming Malayalam film Adi Kapyare Kootamani has been making headlines ever since it went on floors in Thiruvananthapuram in September. The movie, directed by John Varghese, has an ensemble cast including Dhyan Sreenivasan, Mukesh, Namitha Pramod, Aju Varghese, Vineeth Mohan and Neeraj Madhav in main roles.
The makers have released the first teaser of the film featuring comedian Kottayam Pradeep in his trademark style saying "Dhyan ond, Aju ond, Neeraj ond, Mukeshettan ond, Namitha ond, pne njanum ond - Adi Kapyare Kootamani". The teaser has been receiving positive responses from viewers after it was released on Sunday, 6 December.
The second teaser features actor Mukesh, who is seen as a priest and hostel warden.
"Adi Kapyare Kootamani" is expected to create laugh riot in theatres as Dhyan, Aju and Neeraj are joining hands again after their film "Kunjiramayanam".
While John Varghese and Abhilash S Nair have written the script, music sensation Shaan Rahman has composed the soundtrack and background score for the film.
The film is being jointly produced by Sandra Thomas and Vijay Babu under the banner of Friday Film House and Carnival Motion Pictures.
Watch "Adi Kapyare Kootamani" teasers below:
Listen to "Adi Kapyare Kootamani" audio songs below:
"Adi Kapyare Kootamani" is scheduled to hit screens as a Christmas release locking horns with Dulquer Salmaan's "Charlie".