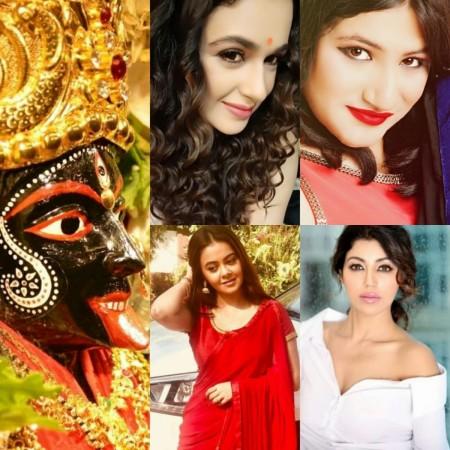 Kali Puja celebrates Goddess Kali on the new moon of the month of Kartik – which is usually around October or November on the Gregorian calendar. It is also a festival which falls on the Lakshmi Puja day of Diwali. While many people worship Diwali on this day, many worship Goddess Kali.
All over the country, temples and shrines display one of the most prevalent images of Goddess Kali. She is shown with a garland composed of nothing but the heads of all of the demons she has slained through the millennial and with one of her feet on the chest of Lord Shiva – holding him down. She is often also portrayed with a sword in one hand and a noose in another. As people do in their homes, they will often leave offerings of sweets, rice, lentils and red hibiscus flowers at these images
TV beauties share about celebrating Kali Pujo this year.
Yuvika Chaudhary: I'm devoted to mother Kali. So the festival is really important for me. I feel her blessings to be with me in my good and bad times. I have many childhood memories. We all use to enjoy with great fun and glory in our societies. Puja happens during mid-nights and then we enjoy bhogs. Here in Mumbai, I do visit Kali Maa temple for blessings.
Devoleena Bhattacharjee: On Kali Puja, we devotees of Kali will honor this goddess by decorating our homes and equipping them with shrines to the goddess. During the evening hours, she is mostly worshiped using mantras and Tantric rites and is offered red hibiscus flowers and various food offerings which may include lentils, rice, khichuri and other sweets and fruits. The festival is important for us.
Debina Bonnerjee: Kali Puja is one of the major festivals for people in West Bengal and North East. We celebrate the occasion with much gusto and enthusiasm. Just as people in other parts of India light lamps to honor Lakshmi Ma during Diwali, people in West Bengal also celebrate the same day as Kali Puja by lighting lamps in honor of Goddess Kali. The pujo is performed at mid-nights. I remember we used to prepare bhog and use to go to temples for puspanjali.
Mahika Sharma: The festival of Diwali is also observed as Kali pujo. This momentous day is celebrated by performing the Puja with faith. We seek protection and blessings, happiness, health and prosperity from the God. Kali Puja is performed only at midnight on Amavasya and later the bhog and dhak nach is enjoyed. I'll be going to kali temple here in Mumbai and will take blessings and will be part of puspanjali too.