"Yennai Arindhaal" starring Ajith Kumar, Trisha Krishnan and Anushka Shetty has opened to mixed reviews. The movie is directed by Gautham Menon and it can be called as the director's cop triology.
Story:
Satyadev (Ajith) is an undercover cop, who becomes friend with gangster Victor (Arun Vijay) in a prison. The hero uses him and kills the head of Victor's gang. Soon Victory will be jailed again and the cat and mouse game begins from here.
Read: 'Yennai Arindhaal' Official Review
Read: First Day Collection of "Yennai Arindhaal" in TN
Reviews:
"Yennai Arindhaal" is being praised for Ajith's strong screen presence, Arun Vijay's enegetic performance, Trisha's lovely looks and a decent story. The father-daughter bonding part is touching to the heart and Menon has capured the emotions well. More importantly, "Yennai Arindhaal" does not project Ajith in his usual avatars rather people could see him as a an uptight cop, a passionate lover and a doting father.
The other plus points are music departments and cinematography by Dan Macarthur. However, the biggest gainer is Arun Vijay, whose performance is whole-heartedly appreciated by all section of audience. And also, Baby Anikha's impresses audience with her acts.
On the flip side, people are not happy with the screenplay, which is draggy at parts. For some it s predictable story and many believe that "Yennai Arindhaal" is a rehashed work of Gautham Menon's earlier movies. Below, we bring you the live reviews from the audience: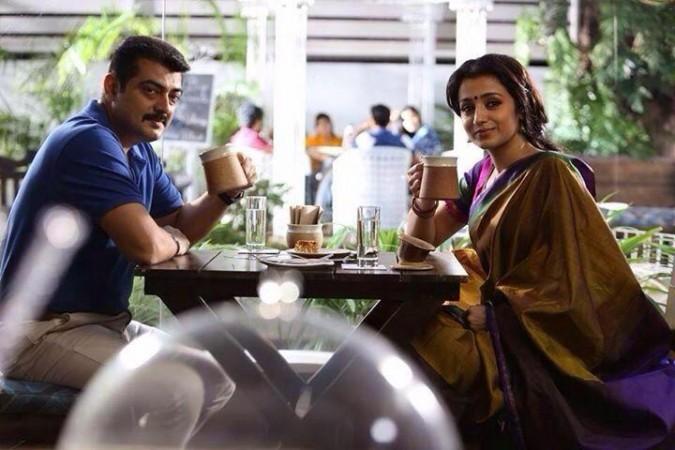 Sreedhar Pillai Posts
#YennaiArindhaal -3.5/5. Dan's grim mood inducing camera . @Jharrisjayaraj BGM & music.
#YennaiArindhaal - 3.5/5. what worked 4 me the best was the undercurrent & tension between the hunter (Satyadev) & hunted (Victor) & climax
#YennaiArindhaal - 3.5/5 Minus - 1st half slow, when u compare with 2nd half. Reminds u of VV & KK.
#YennaiArindhaal - 3.5/5. Ajith plays his age & romance with @trishtrashers sparkling. She has that screen presence. Anushka is sweet.
#YennaiArindhaal - 3.5/5. @arunvijayno1 , what a role & does full justice. "Adharu Adharu" phone conversation & hero's outburst clinched it
#YennaiArindhaal - 3.5/5. Scintillating. #Ajith's knockout performance as Satyadev IPS, @menongautham well etched characterisation.
Haricharan Pudipeddi Wrote
Have never liked Ajith so much in any of his films. No offense. But thanks to GVM, he was at his best in #YennaiArindhaal
The way Gautham portrays women in his films, I doubt if any other Indian filmmaker can, especially after how Tamil filmmakers portray them
Lil disappointed that Harris Jayaraj lifted a track from Tron Legacy, soundtrack by Daft Punk, and used it at imp places #YennaiArindhaal
Some tonal and length issues but otherwise loved #YennaiArindhaal. Amazing screen presence by Ajith. Arun Vijay equally shoulders well
Gopikrishna Posted
First half classy, twist, suspense, slightly drag sumwhr but second half OMG!! Just Wow.. Sema mass !! #YennaiArindhaal #Thala #Arun mersal
Bharathnt Wrote
#Ajith fans can say loudly Sathyadeva Jayathe #YennaiArindhaal Good show
#YennaiArindhaal is a stylish Gautham Menon film for Ajith. Style & Substance, the movie takes off slowly and ends on a high...
Rajasekar Posts
#YennaiArindhaal - huge respect to #Ajith, he sundered himself to GVM & played the character driven role.Would love to see more such choices:)
#YennaiArindhaal - would love to see the extended version. Guess there is a nice back story in the gangster portions, we are missing it now!
#YennaiAirndhaal - the film definitely lacks detailed back story & motive behind @arunvijayno1 's revenge. But the actor nailed as a baddie!
#YennaiArindhaal - 3/5,Loved d romantic track of #Ajith& @trishtrashers , also Ajith's bond with d kid wonderfully written by @menongautham
#YennaiArindhaal - 3/5, @trishtrashers is fabulous in the brief yet well written role, presence has been felt throughout the movie :)
#YennaiArindhaal - 3/5, #Ajith's best performance in recent times. Watch it for the subtle mass moments and @menongautham 's class touch :)
#YennaiArindhaal - first half, typical @menongautham classy touch. Loved Ajith - @trishtrashers portions and some top notch mass moments:)
Praveen Karan Tweeted
#YennaiArindhaal ― Anushka was alluring in style, Vivekh in a small role but his presence made everyone enjoy. Supp cast chipped in nicely!
#YennaiArindhaal ― After VTV, @trishtrashers was at her best, she showed an authentic and crackling chemistry with Thala Ajith once again.
#YennaiArindhaal ― Dont know if any other 'star' will ever let others dominate on screen @arunvijayno1 as the deadly villain,Truly terrific!
#YennaiArindhaal ―Hats Off Ajith for taking up this film which is more of char driven. Saw a new dimension, lovely makeovers! What Energry!
#YennaiArindhaal ― 3.25/5 A good cop story that deals with Sathyadev's life, Gautham Menon stamp written all over. Definitely Ajith's best!
Karthik Balaji Writes
#YennaiArindhaal Good performances overall, especially by @arunvijayno1 ! as expected the movie does remind you of earlier GVM movies!
#YennaiArindhaal No mass No masala. Caters to all audience. A lil bit extra violence and narration too slow but overall a good action movie
Vikky_leaks Posts
#YennaiArindhaal Positives: 5. @menongautham Who hasnt compromised his style for such a big actor, largely targeting the general audience
#YennaiArindhaal Positives: 4. @arunvijayno1 Surprised everyone with his perfo.. Def a meaty role.. His duel scenes wit Thala - Top notch
#YennaiArindhaal Positives: 3. @Jharrisjayaraj 's bgm .. Elevates each n every scene.. Make sure u watch in a gud audio equipped theatre
#YennaiArindhaal Positives: 2. @trishtrashers gorgeous as ever..D romantic scenes r choreographed elegantly that v dont want d scene 2 end
#YennaiArindhaal Positives: 1. Thala's class act .. Glad he took a break from typo movies to do dis movie !!
Chilly Parotta Writes
#YennaiArindhaal - Another episode in a police officer's life with a equal combination of romance,emotions and thrilling moments(3.75/5)
#YennaiArindhaal - The first half starts slowly and once the flashback starts the film starts to move at gud pace.Second half gud throughout
#YennaiArindhaal - Ajith as Sathyadev has lived as the character.Thanks to @menongautham for showing the Mass Ajith in a class way.
#YennaiArindhaal - Ajith dialogue delivery is getting improvised very much.His romance portions with Trisha highlight of movie.
#YennaiArindhaal - The second half is all about the tussle between Ajith and @arunvijayno1 !! Both have performed superbly.Arun VJ rocked.
#YennaiArindhaal - I never found anything bad in the second half and it was ngaging thru out.Loved seeing Ajith in GVM's angle.
#YennaiArindhaal - Its not a movie like KK or VV,but a movie that has its emotions and thrilling moments equally.
#YennaiArindhaal - It has its MASS momemnts in typical GVM style.Vivek comedy here and there worked well.Harris BGM good.
#YennaiArindhaal - Apart from Yean Ennai and Maya Bazaar every song is a delight to watch on screen.Unakena Venum sollu super o super.
#YennaiArindhaal - Trisha has played her role very beautifully.Anushka also good but her character could have been made even better.
Prashanth Tweets
There is nothing extra ordinary about #YennaiArindhaal , thats why did not mention anything. more in the review.
to be honest, @menongautham and team intha padathukku kuduttha builduppa nenachaa thaan lightaa kovam varuthu! #YennaiArindhaal
#yennaiarindhaal - 3.25/5 , lot of talking, less substance, @menongautham disappoints
Kaushik LM Writes
#YennaiArindhaal - 2nd half is the racier of the two. #ArunVijay scores in the final segment. Subtle #Ajith heroism shd click with neutrals
#YennaiArindhaal - Hardcore #Ajith fans shd prepare for a film where their hero isn't at his dominant self all thro. Major paternal emotions
#YennaiArindhaal - A definite sign of #Ajith's maturity in not imposing 'mass' elements and just going with #GauthamMenon's sensibilities
#YennaiArindhaal - Loved #HarrisJayaraj's work on the BGM, lifts every scene. 'Mazhai Vara' and 'Unakkenna' are easily the best visually
#YennaiArindhaal -Strong #GauthamMenon template, be it the characterization of heroines, relationships,paternal angle, Eng lines,local thugs
#YennaiArindhaal - #Ajith's reactions in his mature romance with #Trisha & the child scenes bound to be a big favorite with ladies &neutrals
Narayanan Posts
#YennaiArindhaal It's not Ajith film.Its @arunvijayno1 film.What a comeback.Hapoy for him.Terrific performance.2nd half saves the movie.
#YennaiArindhaal 1st half - Audience losing patience.Desperate for Intermission.Film's result depends only on 2nd half
#YennaiArindhaal Wonder why script consultants were used.To rehash old movies ?
#YennaiArindhaal 1st half - Mix f all GVM movies.Screenplay boring.Average.2nd half to save the movie.
#YennaiArindhaal It's not Ajith film.Its @arunvijayno1 film.What a comeback.Hapoy for him.Terrific performance.2nd half saves the movie.
#YennaiArindhaal Overall it's good.Can watch movie for @arunvijayno1 Career best performance
#YennaiArindhaal #Thala has tried different subject after all gangster type movies.He portrayed brilliantly as emotional dad.
#YennaiArindhaal Phone conversation Scene btw #Thala and @arunvijayno1 in 2nd half s treat.Film picks pace in 2nd half and ends good.
#YennaiArindhaal can't give U as lot bad words in film even though they r muted.Songs in 2nd half Gud. Camera @danmac711 s awesome.
#YennaiArindhaal @trishtrashers character s mix f GVM old movie heroines' char.#Anushka has little scope.#vivek evokes laughter t few places
Christopher K Posts
#YennaArindhaal Avg 1st half ! Very lengthy.Gud camera and dialogues, normal script, songs picturised well, screenplay is slow! Wtg 2nd hlf
#YennaArindhaal 2nd half very good! @arunvijayno1 lifts d movie to next level! Superb action seq and songs! Thala rocks!!!A sure winner!
Surendhar MK Writes
I'm half way through #YennaiArindhaal. Anushka & Ajith portions appear quite hurried and Trisha's portions compensate beautifully.
@menongautham has an uncanny knack of presenting his women dignified and gracious on screen. @trishtrashers is a classic example.
The second of half of #YennaiArindhaal has a lot of Thiagarajan Kumararaja touches to cheer for, especially towards the end and the climax.
#YennaiArindhaal has a lot of flaws and a predictable story-line, but thanks to GVM's slick execution and lifelike imagery, it works fine.
#YennaiArindhaal: Was quite apprehensive about AV's character in the 1st half. But, his transformation is the best thing in the 2nd half.
#YennaiArindhaal: @menongautham has brought the 'actor' in Ajith effortlessly. He has lived his role with a candid performance as Sathyadev.
#YennaiArindhaal: Meanwhile, a lot of bells rang throughout the film evoking so much memories from Kaakha Kaakha & Vettaiyaadu Vilaiyaadu.
#YennaiArindhaal: No punchlines, no mass intro, no gross fanboyish moments, still a classy #Ajith film. Wish he does more films like this.
#YennaiArindhaal: Arun Vijay's dialogues in the 2nd half and his voice modulation show what a capable actor he is when he's provided meat.
#YennaiArindhaal: Gutsy performance from @paro_nair.She needs to be applauded for making her debut in a role which has enough shades of grey
Ramesh Writes
#YennaiArindhaal - 1st half over.. #Thala - @trishtrashers - #Anushka scenes r class.. #Thala as #SathyaDevIPS scenes r Mersal Mass..
#YennaiArindhaal : Its a Dir #GVM's movie in which he has extracted best class acting from #Thala #Ajith and also effectively used his Mass!
#YennaiArindhaal : #Thala #Ajith delivers an outstanding, award-winning performance.. He has lived all his 3 to 4 age variant get-ups..
#YennaiArindhaal : #Thala 's Mass Acting comes out on top as the Man of Honour Police Officer - #SathyaDevIPS - He adds dignity to da role..
#YennaiArindhaal : #Thala #Ajith and @trishtrashers portions r a delight to watch.. We havn't seen #Thala in that kind of role 4 a long time
#YennaiArindhall : The father - daughter relationship has come out beautifully.. #Thala delivers an emotionally charged performance as dad..
#YennaiArindhaal : After #Thala, it's @arunvijayno1 who steals the show in his career best performance.. A good villain elevates the hero..
#YennaiArindhaal : @trishtrashers looks very beautiful and has performed admirably as well in romantic scenes with #Thala and as a carin Mom
#YennaiArindhaal : #Anushka has a gud role too.. @Jharrisjayaraj 's BGM & @danmac711 's camera work r top notch.. @Actor_Vivek does well too
#YennaiArindhaal : Finally Dir #GVM has put his best foot forward.. He was in tough situation b4 YA.. He has come out as as winner..
#YennaiArindhaal : My rating wud be 3.75/5 Stars.. Happy to see #Thala #Ajith 's acting in a different format movie by a Class Dir #GVM :-)
Story is good - what happens to a Man at diff stages of his life.. I think post-censor editing has made the screenplay racy.. @heyprem26
Sidhu Writes
#YennaiArindhaal: The strong cast, stellar cinematography and the taut screenplay & execution are the plus points. Fantastic second half.
#YennaiArindhaal: Sublime. GVM and Thala Ajith deliver a solid and satisfying action thriller. I'm impressed!
#YennaiArindhaal Interval: Dhawan at the start, Dhoni at the halfway point. #Ajith in an all new avatar with lil surprises here and there.
Kannan Wrote
#YennaiArindhaal - Stunning act by Ajith as Sathyadev! Broken many myths & got rid of all the cliches 4 a big star. Total respect to #Thala!
YennaiArindhaal - Slick action thriller with superb plot started slowly but picked up pace midway & ends with a bang! Must watch!! (8/10)
Ajay Tweets
#YennaiArindhaal *halfway* - slow in parts but the speed picks up significantly. Satisfied with the progress. #Thala show all the way.
#YennaiArindhaal - perfectly executed second half that is convincingly satisfying. #Thala makes it look too easy.
#YennaiArindhaal - 3.75/5. Convincing and satisfying hat-trick for Menon, with Ajith controlling the show all the way
Muhammed Ariff Tweeted
Watched #YennaiArindhaal in Dubai!!! Thala did well! Arunvijay & trisha rocks!!!being a thala fan I expected lot!!! But bit disappointed!!!
#YennaiArindhaal will satisfy fans as well as the family audience. But the negative part is most scenes are reminds GVM previous movies.
#YennaiArindhaal The Romance scenes between Ajith &trisha are top notch. The conversation between Ajith & Arunvijay major highlights.
#YennaiArindhaal overall neat thriller movie for all type of audiences..but this is not career best movie for both Thala & GVM.
Manishi Posted
Just watched #YennaiArindhal at Jordan. Disaster movie. Disappointed with Ajith selection of the script. Mediocre direction
The scene where thala kicks the guys when coming out of the railway station is top notch. He excels with mannerisms #YennaiArindhaal
Venkat Wrote
#YennaiArindhaal mixed feeling!!! 3.25/5..watch it for ajits new avatar& arun vij-real hero
#YennaiArindhaal ajit fits in te character perfectly..cud hav been lot more better..his physique doesn't match arun vijay in action scene
#YennaiArindhaal lot of traces of gvm prev mov..same hero mannerism.. Upper class stylish but traditional women, ajit looks different
#YennaiArindhaal good content but slow paced mov..entertains u in parts..Trisha rocks..anushka asusual
#YennaiArindhaal done.no where near vv or kk..one time watch.. Drags bigtime in 2nd half,a we sum climax..arunvijay is mass..ajit looks soft
Kishore Posted
#YennaiArindhaal - A film to enjoy, rejoice both as a Thala fan nd as general public. An out and out family entertainer frm #GVM nd team :)