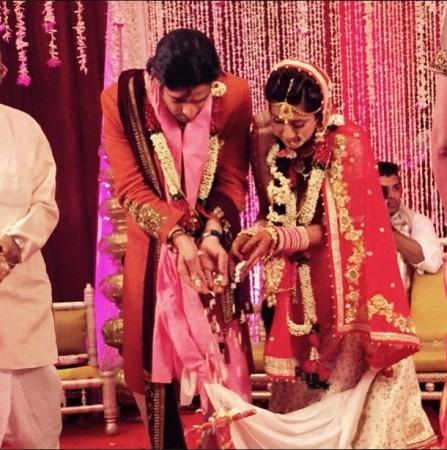 "Yeh Hai Mohabbatein" actor Karan Patel and Ankita Bhargava tied the knot on 3 May in the presence of close friends and family members. Unlike other celebrity weddings, this couple has been very open about the advancements in their relationship.
From roka ceremony to pre-wedding plans and then honeymoon, Karan and Ankita have shared details with fans like no other.
While the "YHM" actor's tweets suggest the lovebirds are in Goa for their post-marriage vacation, Ankita posted a pic of the two seated atop a scooter.
Although the caption talked about how solid their friendship was and that they would stick to each other through thick and thin, it didn't say much about the location they were at.
So, calling it their honeymoon picture would just be an assumption in this case.
"At this beautiful hotel #SOL at #CANDOLIM (nerul) . In #GOA .... Havent had a better time ... If you around, u must drop in ...!! #BRILLIANT," he posted and added, "Tweet with #InGOA and u might bump into me."
Meanwhile, here's what the wifey wrote: "Yeh Dosti Hum Nahin Todenge, Todenge Dam Magar Teraa Saatha Naa Chhodenge!@TheKaranPatel."
A few days ago, there were several conjectures that the couple might jet off to either Singapore or London.
In other news, Karan's alliance with Ankita triggered several controversies. There were reports that it was the latter who was responsible for the TV actor's split with ex-girlfriend Kamya Punjabi. However, Ankita was quick to do the damage control clarifying they met much after the ex-couple broke up.
Check out the photo below: