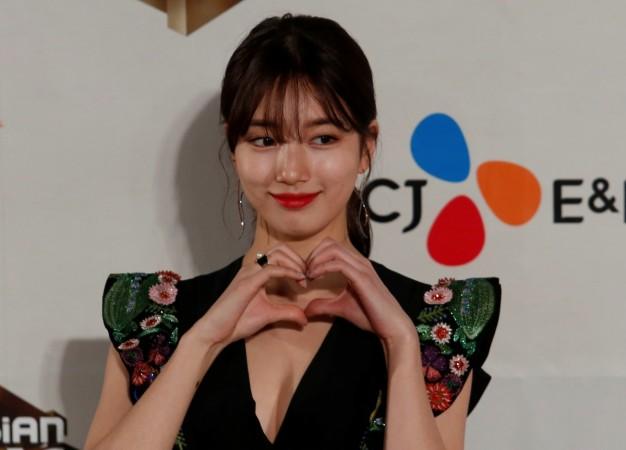 South Korean actress Suzy Bae courted controversy after she came out in support of YouTuber Yang Ye-Won, who said she was sexually harassed. Earlier, a studio had warned of taking legal actions against the actress, now a petition has gone viral seeking death penalty for the former miss A member.
The petition seeking the death penalty was reportedly signed by 1,600 people was sent to the Blue House, the executive office and official residence of the South Korean head of state. However, the petition got rejected by the Blue House.
The petition has left several social media users confused as Suzy spoke in support of Ye-Won.
"Suzy wanted to spread awareness about what happened with the YouTuber who got sexually harassed and knetz want her dead, even sent petitions to the blue house to give her a death penalty. this is a new level of being dumb," user @lovemaseo tweeted.
"So apparently, a lot of radical feminist groups signed a death penalty petition for Lee Kwang Soo and Suzy. I can't believe that these kind of groups still exist in the modern world. Good thing the Blue House rejected it. Anw, I believe most of them are fans of AOA," user @_itslouie said.
"I really wonder what were going through the minds of those people who signed the petition for Suzy's death penalty," user @trueisdiz said.
"So, there is a death penalty petition for Suzy because she stood up for another actress sexual harassment case. Demn.. Koreans are crazy," user @andrie_gun said.
Suzy was recently in the news after a studio said that they plan to take legal action against her because she signed a petition "Hap Jung XXXX Illegal Nude Filming" that had mistakenly named the studio. The K-pop singer had apologised to the studio but they refused to accept the apology and said that the entire incident cannot be forgotten.
Not just Suzy, the death penalty petition also names actor Lee Kwang-Soo because he called AOA singer Hyejeong "gold digger."