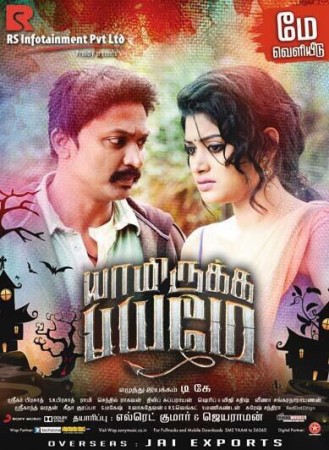 Horror comedy flick "Yaamirukka Bayamey" has received positive reviews from critics.
"Yaamirukka Bayamey", directed by Deekay, has Kreshna, Rupa Manjari, Oviya and Karunakaran in pivotal roles.
Story: Kiran (Kreshna) is a conman who sells phony medicines to cure impotency. The government bans his product and Kiran loses his job. He gets into trouble with a local thug, who suffers erectile dysfunction after having the medicine he sold him. He is also being hunted by a money lender, asking him to repay his moolah. Soon, Kiran comes to know about his father's inheritance - a mansion - in Kolliyur hill station.
Kreshna manges to escape from the local don and leaves for the hill station, along with his girlfriend Smithi (Rupa Manjari). There he meets Sharath (Karunakaran), a local caretaker, who tells Kiran about his father's desire to run a resort. Kiran renovates the building with the help of Karunakaran and his sister Saranya (Oviya).
Soon, customers start coming in but strangely they end up dying under mysterious circumstances. Afraid of telling the police, the four-member gang buries the dead bodies in their backyard. They realise that there is something strange about the place. What happens next forms the crux of the story.
Review roundup of "Yaamirukka Bayamey":
Saraswathi of Rediff: "There are plenty of exciting twists that keep you glued to the screen, alternately roaring with laughter or shutting your eyes in terror. A clever script, good all round performances along with excellent support from the technical team make Deekay's Yaamirukka Bayamey definitely worth a watch."
Sify: "Though the film delivers few scares in the second half, and there aren't any genuinely frightening moments. The idea like all Hollywood horror comedies is to inject a lot of comedy as characters caught in spooky situations provide the laughs. The climax scene is worked out well."
Nandita Ravi of Deccan Chronicle: "To give director Deekay his credit, he tries hard to deliver some thrilling moments in the film, and succeeds too. However the comedy dilutes the tension and seems to intentional and forced. The plot line seems to progress at a steady pace, keeping the viewer engaged and curious enough to stay on until the end. The climax sequence in particular has worked out well."
Behindwoods Review Board: "Even though the film has some moments that can give you the chills, it's easily subsided by the ludicrousness of the characters, which kind of makes the comedy steal the horror's thunder when it really feels like it should be the other way around."
Verdict: Worth a Watch
Photo Credit: Twitter/OviyaaSweetz