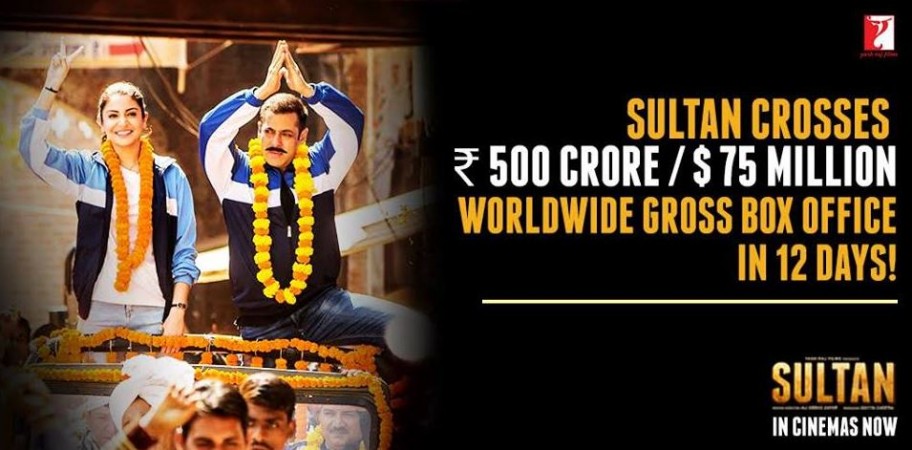 Salman Khan has done it again. "Sultan" has shattered yet another record by becoming the fastest Rs. 500 crore grosser at the worldwide box office, beating Aamir Khan's "PK" record.
"PK," starring Anushka Sharma and Aamir, took 14 days to take its global box office gross income to Rs. 500 crore mark, whereas "Sultan" took just 12 days to earn more than Rs. 500 crore worldwide.
Yash Raj Films, producer of "Sultan," posted on Twitter the 12-day worldwide box office collection of the Salman-Anushka starrer. "Shattering box office records like a true SULTAN!" the YRF tweet reads.
Trade experts had predicted that Ali Abbas Zafar directorial "Sultan" would continue with its phenomenal run at the worldwide box office even in its second week. And as expected, the Salman-Anushka starrer remained unaffected with the release of "Great Grand Masti" in its second week and kept the cash registers ringing in both domestic as well as international markets. "Sultan" 12-day domestic gross income is pegged at Rs. 365.60 crore and the overseas box office collection accumulates to Rs. 136 crore.
"#Sultan - OVERSEAS - Till Weekend 2: $ 20.30 million [₹ 136.33 cr]. FANTASTIC! Note:- 6 July to 17 July 2016," trade analyst Taran Adarsh tweeted, adding: "#Sultan - OVERSEAS [key markets] - Till Weekend 2: USA-CANADA: $ 5.25 mn UAE-GCC: $ 7.43 mn UK-IRELAND: £ 1.51 mn PAKISTAN: $ 2.58 mn."
With its gross collection Rs. 501 crore, "Sultan" has become the fourth film to cross the mark of Rs. 500 crore in the global market. The film shattered the records of "Dhoom 3," "Bajrangi Bhaijaan" and "PK" to achieve this mark.
Take a look at the day-wise box office collection of "Sultan," as provided by Bollywood Hungama.
| | |
| --- | --- |
| India | Collection in Rs. crore |
| Wednesday (Day 1) | 36.54 |
| Thursday (Day 2) | 37.32 |
| Friday (Day 3) | 31.67 |
| Saturday (Day 4) | 36.62 |
| Sunday (Day 5) | 38.21 |
| Monday (Day 6) | 15.54 |
| Tuesday (Day 7) | 12.92 |
| Wednesday (Day 8) | 10.82 |
| Thursday (Day 9) | 9.52 |
| Friday (Day 10) | 7.43 |
| Saturday (Day 11) | 11.46 |
| Sunday (Day 12) | 15.18 |
| Nett income | 263.23 |
| Gross income | 365.60 |
| US-Canada | 35.17 |
| UK-Ireland | 13.32 |
| UAE-GCC | 49.78 |
| Australia | 6.19 |
| New Zealand | 2.73 |
| Malaysia | 1.03 |
| Pakistan | 17.28 |
| Germany | 0.33 |
| Rest of the World | 10.17 |
| Total Gross income | 501.60 |